Engineered Plain Bushing Bearings, Oil-Free Bushing
Beautifully crafted leather products.
Designs a growing, market-leading portfolio of engineered bearings and industrial plain bearing bushing products.
Type of bushing: The type of plain bushing, our strength comes from our self-lubricating bearing products and our knowledge of plain bearing applications. Our engineers have the experience to provide practical, real-world insight to work with you to find the right plain bearing bushing type to solve current problems in the industry and help avoid potential problems in the future.
Greater Cost Savings for Mining customer with Self-lubricated Bushing solutions
Maintenance is often the key. Since many mining operations use original equipment manufacturers, the cost of spare parts for self-lubricating bearings is high. The mining industry is a highly complex sector with intensive, risk-prone processes. As an industry built on the exploration of exhaustible resources, operations are often located in climatically extreme environments. Self-lubricating Bronze Bushing Alloys: CuSn7ZnPb (RG7), CuSn10, CuSn12, CuPb10Sn, CuPb15Sn, CuAl10Ni, CuSn10Zn (RG10), CuZn25Al5, CuSn5ZnPb (RG 5)
The Self-lubricating Bearing Solution: Efficiency + Technical expertise + Improved Product Features and Quality.

we stand by our efforts to provide superior bearings and after-sales service backed by brand-recognized quality, reliability and performance.

To address the high maintenance costs faced by our customers, we are able to provide a wide range of self-lubricating bush bearings within a quick lead time.
This unit provides long-term, maintenance-free operation and improves overall machinery performance.
Mining bearing bushing solution has provided greater cost savings
Manufacturer of standard & custom plain and slide bushings.
Manufacturer of standard and custom plain and sliding bushings. Types include metallic polymer, engineering plastic, fiber reinforced composite, metal, bimetallic, sintered, cylindrical, sealed fiber, oil impregnated, flanged, thin/thick wall, bronze, steel, and thermoplastic bushings. In addition to these challenges, the recent contraction in global coal prices has underscored the need for increased cost monitoring. Mine maintenance managers have had to adapt and take an active role for the mines they oversee. There is a need to change processes to provide spare parts for high quality self-lubricating bearings at a faster rate to reduce machine downtime and lower prices. With years of experience in providing mining solutions that deliver self-lubricating bearings, it has helped customers own the change process to keep assets running optimally while keeping costs down. Our mining solutions have provided greater cost savings, increased productivity and extended the life expectancy of self-lubricating bearing parts to over 3 years.
Self-lubricating Bearing Solution
Bushings are resistant to cavitation, contamination, impact, abrasion, chemical, corrosion and cavitation. Serves the agricultural, automotive, construction, energy, fluid power, oil and gas, primary metals, railroad and recreational industries. Standards compliant. REACH and RoHS compliant. Tribological Polymer Coatings Bushing Bushing Design. This unit provides long-term, maintenance-free operation and improves overall machinery performance.
Best oilless bearings solutions
Engineered Plain Bushes Bearings
Real-life strategy to reach your goals.
Our self-lubricating bearings bushing portfolio is based on our many years of experience with self-lubricating bearings. Driven by our deep R&D capabilities and engineering expertise, we deliver consistent, reliable product performance for applications. Self-lubricating bearings are known for best-in-class quality, service and design, with precision tolerances, proprietary internal geometries and premium materials. Oil Free Bushings for industrial applications.We offers free CAD downloads, prompt lead times, competitive pricing, and small minimum order quantity.
Composite oil-free bushing bearings are available as bushes, plates, bearing segments and special forms, depending on the particular material type.

A complete collection of our available oil-free bushing sleeve bearings products information and specifications.

Thin Walled Bimetal Bearings, oil-free bushing.
Best self-lubricating bearings solutions
We strive for diversity across the globe
Industrial
Plain Bushing

Oil-free Bushing
We use our knowledge of industrial motion to serve our customers' needs more comprehensively. We offer a wide and growing range of self-lubricating bearings, self-lubricating metal material solutions, plain bearing products, chains, and graphite bronze bushings and sliders to keep systems running efficiently. Our industrial drive system services enable equipment to be consistently restored to like-new condition. Bushing Types & Material:
The Self-Lubricating Bushing
Metal-Polymer Composite Bushings (Plain Bearings) …
Bronze Wrapped Bushings. …
Self-lubricating Oilless Graphite Bushings. …
Self-lubricating Bimetal Bushings
Cast Bronze Bearing Bushing
Plain Bearing Bushing By Viiplus, Oil-free Bushing Alternatives
Oil Free Bushings – Configure And Purchase, Plain Bearing Bushes With Flange / Steel Backed(PTFE/ POM metal polymer) / Bronze Backed. Sliding Layer. All-Around Lubrication-Free Bushing That Covers A Wide Range Size And Material Volume Discount.
We Manufacture Oil-Free Bushing Plain Bearing Bushing And Rolled Bushings From The Highest-Quality Materials, Carefully Designing, Fabricating, And Assembling Each Oilless Bearings Component So That The Finished Product Exceeds Both Industry Standards And Customer Expectations. A Quality Oil-Free Bushing Bearing Bushing In A Long-Lasting Self-Lubricating Oil-Free Bushing Bearing, And With More Than A Century Of Experience, We Know How To Build Slide Oil-Free Bushing Bearings Products That Last. Using Self-Lubricating Oil-Free Bushing Bearing By Viiplus Can Extend The Life Of Your Equipment And Give You Peace Of Mind.
Maintenance-free, plain bearings - bronzelube.com :
Self-lubricating oil-free bushing bearing services you can trust on
Custom Bearing, Things Don'T Always Go Your Way, So We'Ve Created Products To Back You Up.
We Understand The Need To Keep Things Running Properly And The Unnecessary Cost Of Downtime To Replace Or Even To Replace Your Self-Lubricating Bearings. Operating In Rural Areas And Outdoor Conditions Can Put Extensive Stress On Your Machinery And Can Even Extend The Time Needed To Obtain The Correct Equipment For Repairs. That'S Why Our Engineering And Agricultural Self-Lubricating Plain Bearings Are Built To Last. High Performance, Long Lasting Time.
Experienced
You could say self-lubricating bushing specialty is our specialty.
Innovation is Our Specialty
And We Are Constantly Making You Better.
Online Chat Support
We're The Company You Call. When Your Problem is Tougher Than Steel.
Oil-free bushing supplier
Our Self-lubricating Oil-free Bushing Bearing Solutions are Extreme to Match Your Needs
Graphite Bushings And Oil-free Bushing Bearings – Solution For Bushing Problems, Offering Superior Performance In Hundreds Of Applications Replacing Carbon Bearings. Graphite Oil-free Bushing Bearing Is Suited For Submerged And High-Temperature Applications. Increased Productivity. Reduced Costs & Downtime. Services: Custom Design, Engineering Support. Solid Bronze Or Bronze Flange Bushings. Suited For High Load, Low-Speed Applications. Lubrication Options Include Solid Bronze, Graphite Embedded Slide Wear Plate.
Don'T Get Crushed By The Hefty Weight Of Repair Costs. We Offer A Broad Line Of Superior Quality Precision Wrapped Bushing, Metallic Oil-free Bushing Bearings, And Engineered Metal Composite Bearing For The Toughest Applications. Providing The Most Comprehensive Line Of Quality Plain Bearing Bushes Products, Delivers Self-Lubricating Dry Bearings Solutions With Nearly Many Years Of Advanced Engineering Knowledge And Experience. Find The Right Parts To Keep Your Mill Running. Our Industry Oil-free Bushing Bearing Products Can Help Your Parts All See Extended Life. Solid graphite bronze bushing, heavy-maintenance, Support material CuZn25Al5, Heavy maintenance, Other commonly used bronze alloys: CuAl10Ni, CuSn12Pb, CuSn7ZnPb
Custom Engineering, Because Uptime Matters
Slide Bearing Oil-Free Polymer Bushing Project, Reliability In the Fields
Purpose-Built And Designed For Optimal Performance, Slide Bearing Bushing By Viiplus Allow The Manufacturers To Keep Their Equipment Running At The Highest Levels. Backed By Extraordinary Engineering And Technical Support, Slide Bearing Bushing Excel In The Toughest, Most Demanding Industrial Applications. We Are Always Powering Innovation. Your Needs Are Our Projects, And Our Self-Lubricated Bearing Bushing Solutions Are For Your Every Application. Boring Tunnels Is No Easy Task, And Neither Is Grinding Pavement. Reclaim Your Sanity With Our Self-Lubricating Bronze Bearing And Metal Bushing. Support material Steel copper-plated or tin-plated, Sliding Layer POM (MoS2)/lubrication pockets.
Each Combination Of Bushing Design And Material Has Its Own Characteristic Properties That Make The Bushing Particularly Suitable For Certain Applications. Whereas Straight (Cylindrical) Bushings Are Suitable For Rotary, Oscillating, And Linear Movements, Straight (Cylindrical) Bushings Can Only Accommodate Radial Loads, And Flanged Bushings Can Accommodate Radial And Axial Loads In One Direction. We Produce Bushings Of Various Designs And Different Materials. As A Result, We Offer A Wide Variety Of Bushings In Stock. We Manufacture A Complete Line Of Agricultural Self-Lubricating Bronze Bearing Bushing For Combines, Spreaders, Etc. Our Plain Oil-Free Bearings Bushing Products Are Manufactured To The OEM Specifications For Maximum Strength And Wear Life. Self-lubricating bsuhing bearing material with MoS2 sliding layer and lubrication pockets. An initial greasing during installation is necessary, after that, periodic greasing with oil or grease is mandatory.
Powering Innovation, Engineering to Break Through
Industrial Plain Steel Wrapped Bushes Bearing Solutions, Deliver & Support
Compared with ordinary bearings, stainless steel bearings not only have obvious advantages in material, but also in process and precision control, which is much stricter than ordinary bearings. In the working process stainless steel bearings work stably, low noise, corrosion resistance, and are widely used. To ensure superior accuracy, VIIPLUS provides the robot with superior performance and precision of self-lubricating bearings. Helping the energy sector, VIIPLUS' unique self-lubricating plain bearing bushing solution helps engineers build large bearing designs. We've been assisting and solving our customers unique problems with tailored solutions for a long time! How can we better assist you? Move Forward With Self-lubricating Bearing by viiplus.com. When it comes to bearing bushing, our strength comes from both what we make and what we know about applications. With their extensive experience, our engineers offer practical, real world insight, working with you to find the right product, solve current issues in the industry and help avoid potential issues in the future.
Custom Engineering Oil-free Bearing
Because Uptime Matters
For innovative solutions beyond our standard self-lubricating bearing bushing products, look to our bearing experts to help serve as an extension of your engineering department. We have a long history of providing "solutions" for our customers' most challenging engineering dry bearing bushing needs. We manufacture metal-backed carbon/graphite bearings.
Our self-lubricating bearing portfolio of brands drives
global industry.
Engineered bearings feature precision tolerances, proprietary internal geometries and quality materials. Our graphite embedded plate, flange bushing, straight bushing, cylindrical bushing, thrust washer, plain bearings, precision and slide bearings deliver strong performance, consistently and reliably. The experts at viiplus support farmers and agricultural equipment manufacturers by providing strong, reliable self-lubricating bearing and graphite embedded slide wear plate for even their toughest jobs. With the expertise of our engineers and the careful selection of materials, we are able to build metallic bushing for everything from hay balers and tractors to combines and cultivators. Other Markets:
Agriculture
Commercial Vehicles
Marine
Construction and Energy
Food and Beverage
Industrial Equipment & Machinery
Metals and Mining
Outdoor Power Equipment,Rail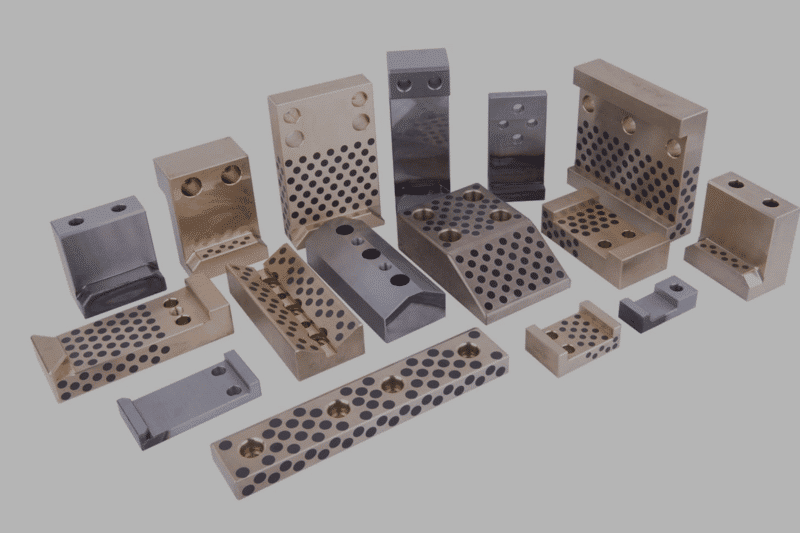 Explore the markets we serve
Diverse Markets, Reducing Downtime
Real-life strategy to reach your goals.
We help design self-lubricating oil-free bushing bearings for machinery and equipment oilless plain bushing components through customer-focused innovation and self-lubricating oil-free bushes bearing application knowledge. Our expertise spans established and emerging industries worldwide – from food production and transportation to automation and renewable energy. Working with customers from diverse markets around the world. From wind farms in the North Sea to freight cars crossing the Sahara desert, we bring knowledge and innovation to life to provide a real market advantage.
FOOD AND BEVERAGE:We design and manufacture high quality and premium performance engineered self-lubricating bearings and graphite bronze bushing products. Our team of engineers work hand-in-hand with original equipment manufacturers and end users to help solve the unique challenges of food and beverage processing equipment with the goal of improving safety, sanitation, reliability and efficiency.

ENERGY:

We work with builders, owners and operators to open minds and develop new technologies. Together, we work to meet the world's growing energy needs and address the long-term reliability and economic viability of natural resources.

MARINE: From mandatory changes due to environmental issues, to gaps in operational efficiency, to supplier delivery times and support, there are many challenges to staying ahead of the curve in the marine industry. Our company's offshore solutions offer a complete portfolio of self-lubricating bearings for workboats. We provide support before, during and after the sale in order to prepare you for success and maximize uptime.
Our self-lubricating bearing portfolio of brands drives
global industry.
The bimetal bearings, plain bearings consist of a Alloy material: CuPb10Sn10, CuPb24Sn4, sliding layer sintered on a steel backing. This construction provides high load capacity, particularly high specific loads with low-frequency, and oscillating motion. have a broad temperature range with very good fatigue resistance at higher temperatures, and good corrosion resistance. Potential applications include agricultural and construction equipment, textile machinery, pneumatic equipment, king pins, brake callipers, oil pumps and small end bearings.
Industry Sliding Bearing Bushing Solutions
Real-life strategy to reach your goals.
Advanced engineering self-lubricating bearing bushing knowledge and experience produced for the oil and gas industry today. viiplus plain bushes products are built to support the industry's toughest applications and withstand the extreme conditions in which they operate. Our high-strength engineering self-lubricating bearing bushing that is used in the oil and natural gas industries is subjected to some of the highest loads and harshest operating conditions. We produce our oil field sliding bearing bushing with the same attention to detail that goes into all of our excellence metallic bearings.
Insensitive to dirty environments

Resistant to impact loads and vibrations at slow speeds

Good corrosion resistance
Our staff is extremely qualified to help your business grow
We offers a wide range of solutions to meet your tribology oil-free bushing bearings bushing and mechanical testing, research and analysis needs. Our Self-Lubricating Are Designed For Your Applications!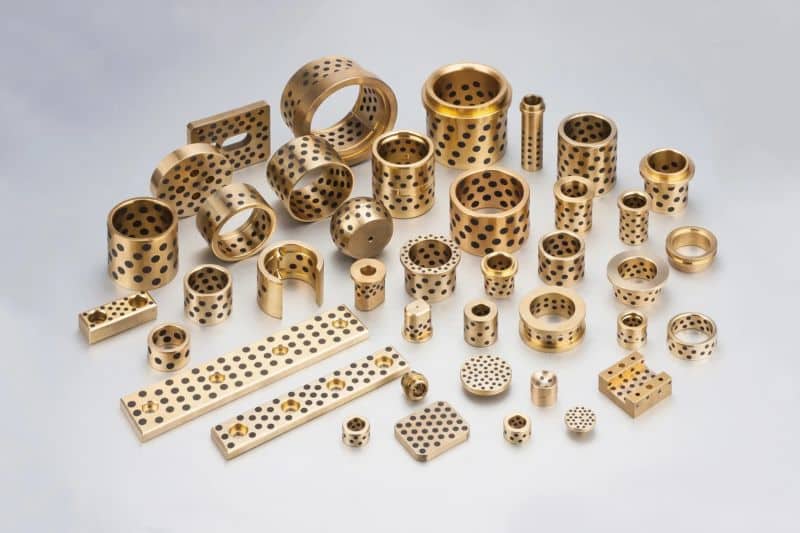 Solid lubricating bushing
Oil-free Graphite Bushing, Self Lubricating Bearing, Jdb Copper Oil-Free Bushing. Oil Free Graphite Insert Bronze Bearing Self Lubricating, Standard Oil-Free Universal Guide Bushings -Flange Type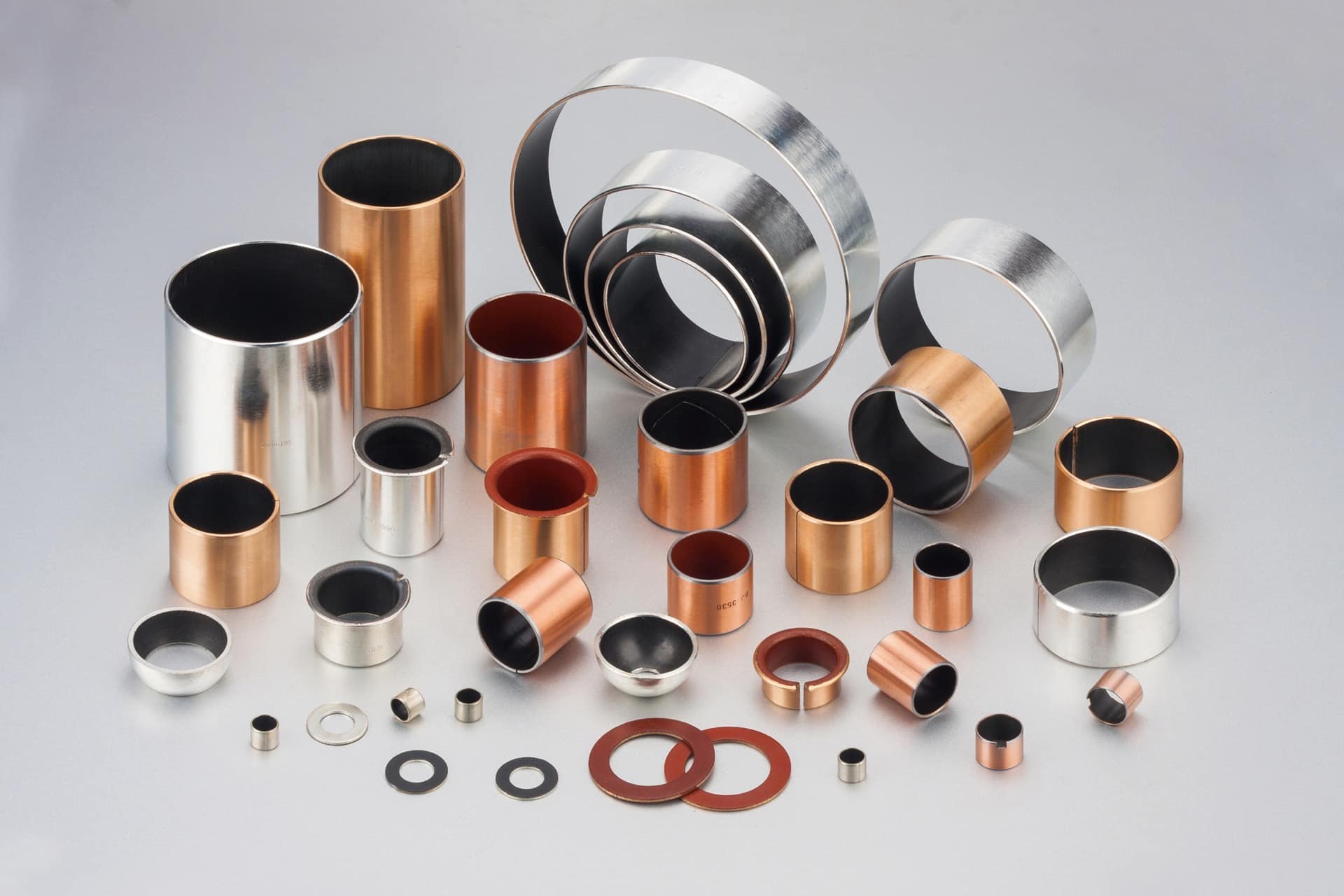 Self-lubricating multilayer composite bushing
Sliding Bearings steel/PTFE composite Maintenance-free Series, Thrust slide washer
Wrapped bronze bushing
Straight bushing Low-maintenance phosphor bronze (CuSn8) Series
Boundary lubricating bushing
Sliding Bearings steel/POM composite Low-maintenance Series
Bimetal bushing
Offers new lead-free bimetal bearings, steel bronze bushing.
Steel bushing
Graphite Bushings and Bearings – Solution for Bushing Problems
Teamwork, integrity, and performance
OEM Parts & Custom Bushing Services,
'Self-lubricating'
Replacement parts from different manufacturers can vary on many levels – from the materials used, to the surface finish, to the heat treatment of the part. Production costs may skimp on any of these features, resulting in an inferior product that can be more trouble than its self-lubricating bearing installation is worth. Only by using high quality replacement bushing parts can you be assured that your new parts will provide the same quality as the originals. Please recognize the VIIPLUS supplier of the parts.

Replacement parts for your self-lubricating bearings will ensure that all bushing parts are manufactured to the correct specifications, including professional advice on any improvement plans for your self-lubricating bearings. In addition, if you need to use our replacement parts for your self-lubricating bearings, matching all existing sizes and materials on the original equipment is applicable, along with technical support from our professional engineering staff, if needed.

Let us do the work: Our engineering team will work with you to insure self-lubricating bearings specification requirements, The application engineering team and the design team work together to create a plain bushes design to meet your unique specifications. The designed bushings spends time in our development lab completing a number of rigorous tests. Our manufacturing team utilizes supply metal bushing, and customized bushing to insure every deadline is met along the way
Offers precision self-lubricating bearings for your applications and a full product line of metallic bearing bushing.
guide components

NAAMS Cam Gibs with 10mm Lip Graphite Bronze: Enhancing Precision and Efficiency in the Automotive Industry

Graphite Wear Strips

Graphite Wear Strips are made of bronze self-lubricating graphite. Enhancing Equipment Performance with Graphite Wear Strips.

Self-Lubricating Thrust Journal Bearings

Self-lubricating thrust and journal bearings utilize advanced materials that have the ability to provide their own lubrication. Plain bearings, also known as sleeve bearings, are commonly used in various mechanical applications.

solid lubricant bearing

One of the most common types of bearings is bronze bearings, which are known for their durability, strength, and resistance to wear and tear. The graphite lubricants provide a self-lubricating surface that reduces friction between the two surfaces, thereby reducing wear and tear.
Precision Slide Bearing Technology

:

Custom Bearing Bushes Solutions
Keeping our promises to customers and each other: On Time, OnSpec, On Budget, Precision Self-lubricating Bearing Solutions for a Global Market.Our engineering team is dedicated to providing innovative and self-lubricating bearing solutions to your specific and unique needs. Our team can take your specifications and turn them in to a complete engineered design, bushing material. Whether you need product modifications, or complete custom size, we will work you every step of the way.
Plain bearings online shop – maintenance-free self-lubricating
There is something for everyone in our wide range of oil-free bearing bushings. Our standard self-lubricating material range includes a wide variety of products, and more than 50% of our sales are made up of non-standard or customer-specific products. Welcome to bronzelube, where we hold a full range of bushing to meet the immediate needs of customers. Manufacturer of Flanged Bushes – Oil Free Flange Bush, Flange Bush, Flanged Bush offered From China.