Oilless Bushings Project
Start Your Best Oilless Bushings Solution
As a reliable oilless bushings supplier, we aim to supply the best oilless bushings that cater to the varying needs of our customers. We can be produced according to the customer's mold oilless bushing design drawings, and our company can refer to technical requirements and standards for production such as "MISUMI", "Disc", "HASCO", "DME" "FIBRO" "DANLY".
viiolus has excelled in manufacturing durable, trusted oilless bushing bearings for products around the globe.
Our oilless bushing bearings are the top choice for manufacturers in the automotive, marine, and industrial markets.A lot of customer reviews and the high quality oilless bushings buy from us have proven this.
Oilless Bushings Supplier
In response to the growing demand for the graphite plugged oilless bushings products, we are pleased to announce that the full line of standard size graphite plugged oilless bushings are available for purchase online at bronzelube.com.
Hundreds of industry standard size oilless bushings are listed in inch and metric standard sizes. These products are inventoried for rapid shipment.
Oilless bushings is a copper-based self-lubricating bearing for heavy load applications into which solid lubricant plugs are embedded. Cylindrical bushes, grooves, oil holes, slots, etc.
OILLESS BUSHING FEATURES
Maintenance-free.
Excellent wear resistance in applications where oil film formation is difficult such as reciprocating, intermittent or oscillating motions under high loads and low speeds.
Low friction.
Range of operating temperatures.
Freedom of oilless bushings design on flange shape and the size.
Excellent corrosion and chemical resistance. This bearing can be used in river or sea water; in liquids where chemical resistance of the metal base and solid lubricant is needed; and in gas where oil supply is difficult.
Excellent impact resistance.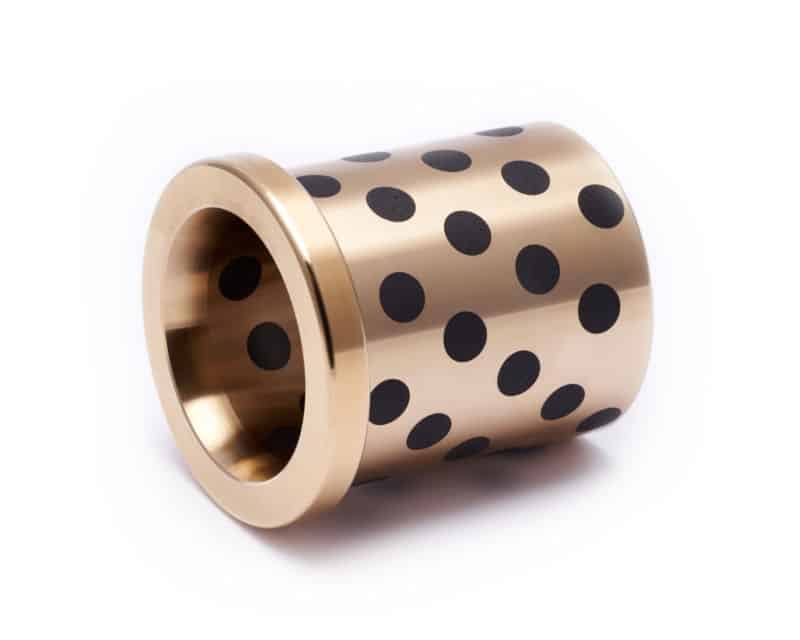 Top Quality Oilles Bushes
High Quality Oilless Bushings To Meet Your Requirements.
Oilless Bushing Production
Bronzelube Have Experienced Professional Production & Design Team From China.
Bronzelube Offer Variety of Bronze Standard Bearings & Flange Bronze Standard Bushings Worldwide, Professional Technology.
Low Price. Order now! Inquiry Us Now.
DESIGNS ONE OILLESS BEARING AT A TIME
High Quality Oilless Bushings Design & Online Sales
Graphite oilless bushings are a complete line of self-lubricating bushings that excel whenever standard lubrication is impractical, including heavy load and high temperature applications.
Maintenance free bearing and oilless bushings, bronze with solid lubricant
Oil Free Bushings Material
Bronze with solid lubricant,

oilless lubricating
Graphite bronze oilless bushings Properties
| | |
| --- | --- |
| Base Material: | Special Brass (Graphite Oilless Bushing) |
| Self-lubricating: | Yes |
| Lubricant: | Graphite |
| Surface Pressure P: | 100 N/mm² |
| Sliding speed v: | 30 m/min |
| P*v-value: | 200 N/mm² x m/min |
| Operating temperature: | -50°C / +200°C (max. 300°C) |
| Friction coefficient: | 0,07 |
Oilless Bushings Design
OILLESS BUSHING SIZE ONLINE CATALOG DOWN LOAD, CONTACT US TODAY FOR A QUOTE!
Quality & Experience In Every Details For Customized Plugged Graphite Oilless Bushings From Production To Delivery
Oilless Bushings Collection
Exporter and designer of oil-free bushings, graphite bronze bearing, graphite plugged bronze sleeve bushings, oilless bushings….
Oilless bushings suppliers & exporters in china
Oil Free Bushings- self-lubricating
OILLESS METAL BUSHING (LUBRICATED METAL) MAJOR APPLICATIONS
General industrial machinery and heavy industrial facilities
Oil Free Bushings

Solutions
Oil Free Bushings

Flange Size
Metric Size

Oil Free Bushings
Maintenance free bearing and guide bushes, bronze with solid lubricant, graphite oilless bushes
Oilless Bushes Price and delivery time on request
Description
Graphite Oilless Bushes made of extra hard and resistant bronze with built-in self-lubricating graphite caps for maintenance-free operation. When it comes to high loads and small movements where lubrication is difficult to implement, this Graphite Oilless Bushes is an excellent solution. Graphite plugs cover approximately 25-30% of the Graphite Oilless Bushes surface and are positioned so that the entire Oilless Bushes bearing surface is always lubricated. Graphite Oilless Bushes are available in many designs and can also be manufactured in other alloys to meet specific application needs.
Feature
Periodic lubrication is not required.
Anti-seizure properties. It can work in the absence of lubrication / lubrication faults.
Exceptional wear resistance.
Excellent incorporability of foreign particles.
Reduction of the noise level.
It can also be used at high temperatures.
Suitable for high loads and high speeds.
The products are not contaminated with oil.
Cost effective.
It can be replaced for sintered bronze / Oilite bearings.
Reduction of management costs.
Reduction of maintenance costs.
Compact design.
Longer working life.
Remarkable resistance to corrosion and chemical attacks.
Self-Lubricating Oilless range of Bushes, Bush Bearings, Flanged, Liners & Wear Plates, etc
Bearing forms available in standard dimensions
Cylindrical bushes
Flanged bushes
Thrust washers
Flanged washers
Sliding plates
Metric bearings and imperial bushes on request: standard bush shapes in special dimensions, half bushes, special shapes by stamping or deep drawing, customer-specific bush designs
Choose Your Graphite Oilless Bushes Style
Self Lubricating Bushing – High Quality Factory Oilless Bushes
Oilless Bushes Characteristics
– Maintenance free (self-lubricating)
– Suitable for heavy duty applications
– Resists extreme temperatures
– Long lifespan
Oilless Bushes Technical Data
| | |
| --- | --- |
| Base Material: | Special Brass(SO#50SP2) |
| Self-lubricating: | Yes |
| Lubricant: | Graphite |
| Surface Pressure P: | 100 N/mm² |
| Sliding speed v: | 30 m/min |
| PV value: | 200 N/mm² x m/min |
| Operating temperature: | -50°C / +200°C (max. 300°C) |
| Friction coefficient: | 0,07 |
Oilless Bushes Physical properties
Specific gravity
Hardness
Elongation
Tensile Strength
Linear Expansion Coefficient

×10 -5 /℃

7.9
210 or more
12 or more
755 or more
1.9
Self-Lubricating Oilless Bushes Graphite Plugged Bronze Sleeve Bushings Now Available Online
Graphite oilless bushes are a substrate in carbon steel, bronze powder, PTFE, fibers and other materials through a special process for the production of self-lubricating products, with the characteristics of environmental protection.
Material
Base Copper alloy
Solid lubricant
Structure
1.Solid lubrication film
2.Solid lubricant
3.Copper alloy substrate
Replacement "SOB"oilless bushes (e.g. Inner diameter d 8mm×Outer diameter D 12mm ×Length L 8mm)
Tolerance
d8 :General use (high load)
e7 :General use (light load)
f7 :High precision
It is written the oilless bushes service range, the test data, and the standard size table, etc.
Oilless bushes feature
1. Oil supply device, oil hole, oil groove
2. Reduction of operating costs
3. Shortened design time
4. Recovery and environmental protection of the lubricant
Explore our extensive Oilles Bushes range of to suit all applications.
Oilles Bushes with tie rods for injection molding machines.
Oilles Bushes for use at high temperatures, including iron and manufacturing machinery.
Oilles Bushes for automotive production line.
Armrests Oilles Bushes for driving blades.
Activate / deactivate Bush bearings.
Heavy engineering applications.
Mining machinery.
Earth moving and construction machinery.
Cranes and transport systems.
Pin bearings for oil-free chains.
Fulcrum Oilles Bushes for table lifts.
Oilles Bushes for pulleys for cranes, etc.
Bushes of dam door and water gate.
Oilles Bushes for underwater use, e.g. Guide Vane Bearings of water wheels.
Oilles Bushes for high, dusty and difficult temperatures.
Oilles Bushes Bearings for nuclear power plants.
Oilles Bushes Bearings for machine tools.
Large support Oilles Bushes for bridges.
Carriage axle bearings and radiator Oilles Bushes bearings.
Oilles Bushes bearings for the cement industry.
Oilles Bushes Bearings to be used under high load, low speed and self-lubricating conditions.
Underwater bearings are used as vane bearings in a turbine
Oilles Bushes Bearings for use in strong radioactive environments, e.g. Nuclear power plant
Hydraulic steel structures,Offshore industry shipbuilding Power, plants and reactors, Metallurgical plants, Construction of bridges, pipelines, etc.
Where thermal expansion should be absorbed.
Graphite Bronze Material Oilless Guide Bushes
GRAPHITE BRONZE BUSHING ORDER FROM CHINA
Help You Find The Right Oilles Bushes From China
Advanced production oilles bushes , plain bearings, self-lubricating bearings, copper sleeve, graphite copper sleeve, self-lubricating copper sleeve, self-lubricating copper slide plate, oil-free bearings, composite bushing,rolled bronze bearings,bronze sleeve bushing, bronze sliding bearing, bronze bearing professional suppliers.
Buy Oilless Bushes online bronzelube.com
Designed to be self-lubricating, wear-resistant, and maintenance-free, buy oilless bushes directly from china at Excellent price today!
Providing Custom Solutions, Catalog Available, ISO 9001:2008 Certified Company
STRAIGHT & FLANGE TYPE
Oilless Bush. Copper Alloy. Straight type. Material Base Copper alloy . Solid lubricant. Lubricant Type. Lubricating Bushes
fusion_global="1467″]USN6 TIN BRONZE BUSHING
Join Over
500,000

Customer Enjoying Buying

Self-lubricating Parts

Now
Always tested. Always proven. Always Bronzelube.com