Bushings Manufacturers Wear Resistance Bronze – Bronze Bearing
Bushings Manufacturers, Manufacturing according to Technical Drawing. Bronze bearings bushings – Request a free quote. The standard slide bronze bushing bearing bushes can be divided into different types. There are rolled slide bearings and solid bronze and cast metal slide bearings. Plain Bushes. Order now! Online bronze bushing and bronze bearing catalog from China. Wide Selection to handle your bronze bushing manufacturing needs. We offer sleeve bearings and cast bronze CNC precision machined in a variety of sizes. Choose your sleeve bearing size on our site for your custom fit. Oilless bronze bushing and lubricating bronze bushings, Bronze continues to be a popular choice for bushings because it has many alloys and compositions that expand its application in more areas. Compared to bushings made of other materials, bronze bushings are harder and less likely to break or warp.
Bushing Manufacturers & Suppliers .
Custom-Made Bearings – Sliding Bearings & Bushings
We will consult you and deliver the best quality of sliding bearings. Download the PDF now, Used for bronze bushing sandwich structures with self-lubricating bronze bearings materials. Bushing manufacturer – bearing more professional industry solutions provider
Self-lubricating bearings: smaller, lighter, safer. We have many years of experience in self-lubricating bearings, quality assurance. Oil-free bearings are widely used in 11 industries, such as agricultural machinery, automotive, etc. We provide customized bearing solutions for the industry.
Bearings Manufacturing Wholesale – Wholesale Suppliers Online

Technical Solutions For All Factories & Plants, Bronze Bushing for mining – Machinery Bushing And Bearing

Bushing Export Logistics Service.
Explore the catalog of bronze bushings, bronze bushes and bearings of all types. China Bushings Manufacturer – Sliding Bearing Solutions, Web shop, which is available globally. Order bushing parts online whenever they are needed. Contact us to get access! Metric size and inch size different parts. Contact us to learn more. Fast Delivery. Track your order . Multiple delivery options. Discover the wide range and fill out the form: you can also request 2D or 3D drawings!
The Power of Predictability
Customized Manufacturing bronze bushing
Digital technology enables a new approach to an old industrial problem: eliminating the unexpected. In industry, nobody likes surprises. Companies spend much of their time working to create conditions where people, assets and materials behave…supplying premium different types of lubricated bushings to various application. We Served Over Than 23 Countries+ With quality and precision, you can also find our self-lubricating bronze bushings with the same toughness and engineered characteristics you would expect. With exceptional fit and durability on bushings, expect to achieve unprecedented hours on your machine. Bushing Manufacturers & Suppliers, Tradition of Excellence.
Bushing Manufacturers & Suppliers .

Your Good Choice for Metal Bronze Bushings Manufacturer
Contact Us and Reduce Your Bronze Bushings Cost
We are always be your best partner for self-lubricating bearing bushings from China.Wear-resistant metal bearing, Self – lubricating bearings with copper and PTFE metal composite bearing, POM and sliding bearing lubrication, used in applications grease or oil. Bushings & Bearings – Sleeve, Flange, Thrust. Long-lasting · Excellent resistance to friction and wear over time · Can easily be used at high temperatures. Manufactures bushings in various designs and from different materials. … Downloads the plain bronze bushing bearings and flange bushing catalogue. Plain Bearings Industries – Bushing manufacturer, We Are A Customer Focused, Proven Source With Over Many Years Of Experience In The Oilless Bearings Industry. We are a high volume, "Build to Print" manufacturer of precision turned parts.
Customized parts – Low Volume Manufacture Service – Rapid Prototyping
Bronze Bushing for your application,
Bushes Bronze Categories – Bearing Shop Online
We manufacturer
bronze bushing

tailored to your needs.
Quick-Turn Metal Manufacturing – Parts in Some Days – Made to order from China. Bronze Bearings Manufacturers and Suppliers
Rapid Manufacturing – Low Volume Manufacturing. Bronze castings for mining and machinery material ZCuPb10Sn10 as customer needs. High Lead Bronze Bushing Manufacturers in China. Good quality and fast delivery. See Solutions. Guide bushes bronze, maintenance-free. Explore Products. View Video. Bushings Manufacturers & Suppliers in China. Bushings. custom bushings Manufacturing, we provide: Quick disconnect bushings; bearing bronze bushings; Split bronze bushings. Metal and Bimetal Bearings – For Industrial Applications. We Don't Have Minimums, Work Fast & Can Hit Your Deadlines. Top Quick-Turn Metal Fabrication.
Quick parts CNC on Demand – Quick Parts CNC Machined Parts
Bronze Bushing Manufacturer, China Bushing Manufacturers and Factory, Suppliers
different tribological bearing solutions
abundant reference cases in various fields
a variety of different applications, customers all over the world
the most powerful global engineering technology capability, can work with you to complete the entire design process, to provide you with the perfect solution
our application will meet the most demanding applications – harsh working environment, a variety of shapes, STRAIGHT TYPE, FLANGE BEARINGS, THRUST WASHER, or self lubricating bearing materials
metal composite products
our business covers the whole world, including China, eight countries, four continents, local production, to provide you with services anytime, anywhere
Our engineers apply our expertise and love of tribology to the fields of automobiles, oil and industrial bushings bearing manufacturing. Contact us and Reduce Your Shipping Cost.
Bronze bushing and bronze bearings rely on a capillary action to create a lubricating oil film. We have a wide range of Bearings Plain & Sleeve Bearings … Bearing, Flanged, Graphite, Solid Bronze.
Solid Bronze Bushings Supplier, Bronze Bearing Bushing Manufacturers, Request A Custom Quote – Request A Quote
Solid bronze bushings are available in metric sizes as straight or flanged bushings. This solid bushing material is suitable for a wide range of size and materials. High-Performance Bearings Designed in Collaboration with Customers. Made for Your Needs. Deliver Market Bronze Bearings Performance Across a Range of Size and Bronze Bushing Materials. Shop our vast range of quality Bushing Bearing Parts & Replacements at reasonable prices including air filters. Fast Shipping – Quality Assured – Low Prices.
Solid bronze bushings supplier, bushing manufacturers!
Solid Bronze Bushing Self Lubricating Brass Material Technical parameters
Technical parameters
JDB-600U1
JDB-600U2
JDB-600U1
JDB-600U1
JDB-600U1
JDB-600U1
CuZn25Al6Mn4Fe3
CuSn5Pb5Zn5
CuAl10Ni5Fe5
CuSn12
CuSn10Pb10
CuZn25Al6Mn4Fe3
density/cm2
8.0
8.9
7.8
8.9
8.9
8.0
yield strength N/mm2
>450
>90
>260
>150
>100
>450

strength of extension

N/mm2Technical parameters

>750
>200
>600
>260
>210
>800
coefficient of elongation%
>12
>15
>10
>8
>8
>8
 HB
>210
>70
>150
>95
>95
>250
Bronze Bushing Manufacturers, Oilless Bush Supplier
Beautifully crafted leather products.
We offers a wide range of high performance Oilless Bush. Copper Alloy. Straight type. Material Base Copper alloy Solid lubricant Operation Range. Lubricant Type. Plain Bushing Bearing Materials, Services and Solutions. Maintenance free bearing and guide bushes, bronze with solid lubricant. Maintenance free bearing and guide bushes, bronze with solid lubricant, SOB Replacement parts, Guide Bushes and thrust washers. Oilless bush SOB drawings model is available! Oiles 500 Bronze Base Graphite Lubricant Bush … Oilless Bearing, Oilless Brass Straight Bushing SOB #500SP Graphite Plugged Bronze Bearing Metric Size, Housing H7: Industrial bearing parts…
Oilless Brass Flange Bush Factory Price
Oilless Sob Guide Bushing, Straight Bush, Flange Bronze bUSHING with Graphite, Find Details about Bronze Bushing, Oilless Bearing Size. Custom Continuous & Centrifugal Cast Bronze Alloys. Find The Answer To Your Question Here Or Call Us For More Info. Reliable Bronze Bushing OEM – Bronze Bushing Quote Now.
Bronze Bearing Component: Oilless bush
Guide Bushes Flange Bronze and thrust washers – Oilless Bearing Bush, Brass, Bronze & Copper Alloys. Flange Bronze Bearings Suppliers.
Copper Alloy Bushes , Plates & Parts Specialists For Manufacturing & Machining Of All Types. Saves You Time & Money In Research, Design & Production Costs.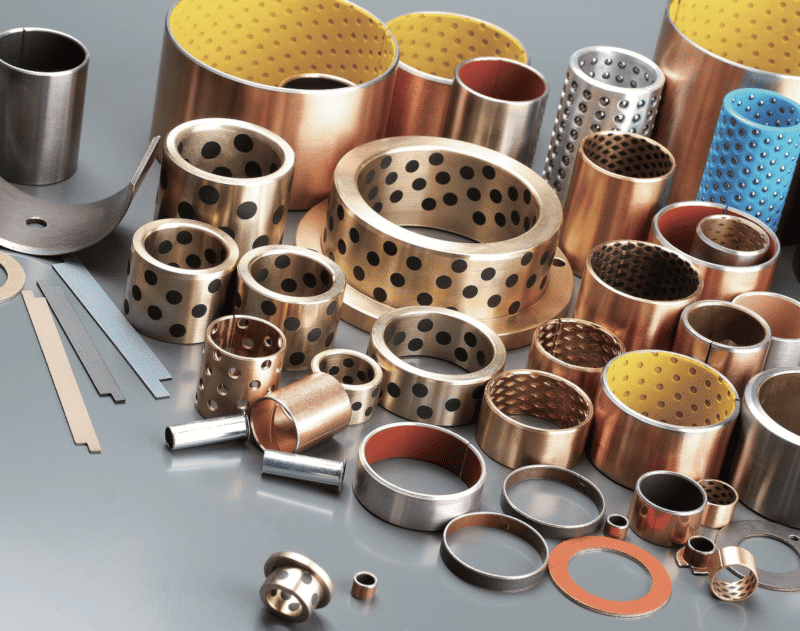 Bushing Bearing Parts – View Bronze Bushing Parts Catalogue.
Metal Bushing Parts Mfg. – Precision Bearing Bushing Manufacturer.
Outstanding Customer Service. Affordable Prices. Request A Quote!
Ask our experts
Get in touch with our parts expert Fill in the contact form here
CONTINUOUS CAST BRONZE
Continuous & Centrifugal Cast Bronze Bushing Bearing Material
C93200 (SAE 660) bearing bronze has excellent load capacity and resistance to friction, making it the alloy of choice for a variety of applications such as machine tools, power transmission equipment, electric motors, automotive equipment, tractors, cranes, lifts and many types of accessories and special equipment. c93200 bearing bronze has good machining characteristics, is resistant to many chemicals and is generally recommended for medium speed C93200 bearing bronze has good machinability and is generally recommended for medium speed, medium load applications. It meets continuous casting specification ASTM B 505.
C95400 aluminum bronze is the most popular and versatile aluminum bronze alloy. It has high yield and tensile strengths, good ductility and weldability, and exceptional resistance to wear, fatigue and deformation under shock or overload. Meets continuous casting specification ASTM B 505
C90300 (SAE 620) Bearings, bushings
C90300 (SAE 620) Tin Bronze is a proven multi-purpose alloy* commonly used for high load, low speed applications. The alloy is hard, strong and can withstand wear and corrosion.C90300 can be used for soldering, brazing and welding. Parts made from this alloy require good alignment and lubrication of mating parts.
Also known as: CDA 903, Naval Bronze, Gear Bronze, 88-8-0-4, SAE 620, ASTM B-271 Alloy C90300, ASTM B-505 Alloy C90300, ASTM B-271 Alloy C90300 , QQC-390 Alloy D5, QQC-390 Rev. A / B Alloy C90300.
C90300 Chemical Composition.
Cu%

Sn%

Pb%

Zn%

Fe%

Ni%

Sb%

P%

S%

AI%

Mn%

Si%

86.00-
89.00

7.50-
9.00

0.30

3.00-
5.00

0.20

1.00

0.20

1.50

0.05

0.005

N/A

0.005
C90500 (SAE 62) Tin Bronze also known as Gun Metal is a high wear resistant bronze that provides good mechanical properties and excellent corrosion resistance to dezincification.
C90500 (SAE62, CuSn10Zn2) performs the GB/T 1176-1987 standard. Tin bronze is relatively hard and has high ductility. The main function of tin is to enhance the strength of these bronze alloys. The combined performance has a high load-bearing capacity, good wear resistance and the ability to withstand impact. Typical applications are marine pumps, valves, bearings, bushings, piston rings, auto parts and gears.
C90500 mechanical properties uses: tin phosphor bronze has high strength, elasticity, wear resistance and anti-magnetic, good pressure processability in the hot and cold state, high resistance to electric sparks, can be welded and fiber welding, good machinability, corrosion resistance in the atmosphere, fresh water. c51900 is used to make springs and good electrical conductivity spring contact piece, wear-resistant parts in precision instruments and anti-magnetic parts, such as gears, Brush box, vibration plate, contactor, etc.
Get the right part for the right purpose fast. More than bushing parts can be ordered around the clock. Globally Engineer Available. Fast Delivery. Different size parts. Order anytime, anywhere.
ENTERPRISE • SME • RETAIL & WHOLESALE
Bushing Manufacturer
The All-New Series Of Plain Bearing Bushing Start From Here.
UNDERSTANDING THE TYPES OF BUSINESS SEGMENTS AND DETERMINE WHICH BUSHING BEARING IS BEST FOR YOUR NEEDS.