Reliable, light, & excellent self-lubricating bearing solutions
We strive for excellence in everything we do.
Wrapped sliding bearing, wrapped bushing, steel/POM sliding layer, DIN 1494/ISO 3547, Low-maintenance
Design & Engineering
Always tested. Always proven. Global website www.bronzelube.com
Machining & Production Capabilities
Customized logo, custom self lubricating bronze bushing service.
Guidance On Your Bushing Material
Complete Range Of Self Lubricating Bronze Bushings Design & Development Services.
we have the manufacturing bushing material to finished parts, customize parts shape for your bearings solution. Our production engineers select the appropriate oilless sliding bearings technology based on your specific application.
Bronzelube uses its sliding bearings experience designing and manufacturing cylindrical bushing to continually advance performance across size ranges and configurations, including inch and metric and flange size, thrust washer and customized sliding plate designs.
Creating The Right Size, Material, And Final Finishes Bushing Bearing Parts!
Your full-service manufacturer for Self-lubricating metallic bushing , meaning we machine all of our widely range bushing products. Manufacturing bronze parts, we take pride in creating the perfect bearing bush from start to finish.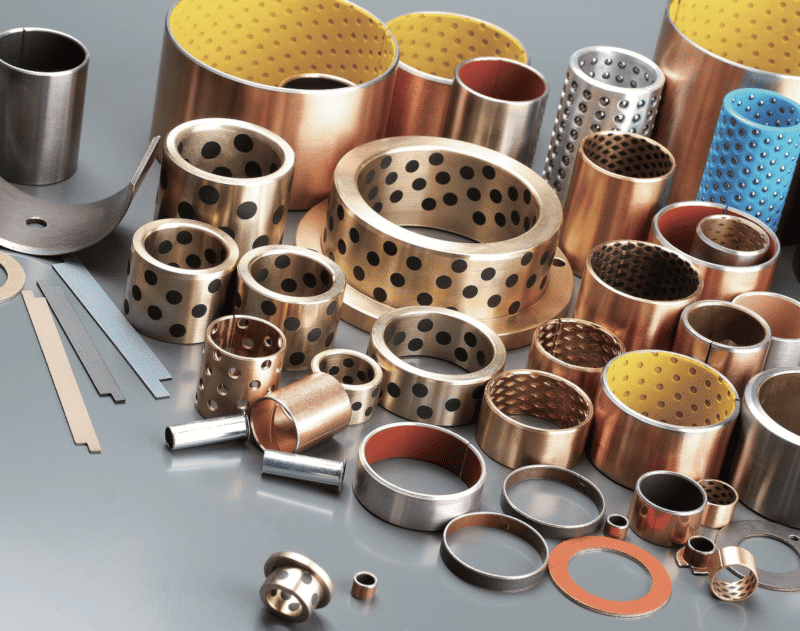 Guidance On Your Lubricating Bushing Material!
Self-lubricating bushing can be highly customized with specific types of slide bearing bushing and metal polymer materials, and our engineers are here to help each client choose the exact right bushing material for your application.
Sed porttitor lectus nibh. Vivamus magna justo, lacinia eget consectetur sed, convallis.
The Plain Bushings Design and
Self-lubricating Bearings from bronzelube.com Reduce Costs by 40% & Weight by 80%。 Self-lubricating, corrosion-resistant & maintenance-free metal for industrial equipment. The shipping department at bronzelube.com will provide effective shipping standards for your plain bearing shipment to arrive on time without compromising quality.
Custom Oilless Bushing Design & Engineering

Metal Self-lubricating Bearings, Contact a oilless bearing bearings expert, Custom Graphite Bronze Oilless Design & Engineering. Your problem isn't off-the-shelf. That's why our bushings are custom designed and manufactured to your exact specifications. Our engineers, experts in the production of self-lubricating plain bearing materials, know their processes inside and out and can bring the performance benefits of self-lubricating materials to your unique project.
Got a question about our services?
Call us : 0086.018258386757
Self-lubricating bronze bushing material are made using a mixture of metallic and composite slide layer that's customizable for your application. Need a oilless bearings?
Oilless material, Metal Backed, Bronze Alloy, 3 layer, 2 layer, Custom & Standard Inner/Outer Diameter Bushing.
You can control both the outer and inner size and diameter of each self-lubricating bronze bushing or bearing.
Sliding Bearings Design Guides
Our Design Guides Provide An In-Depth Description Of Sliding Dry Bushing Products To Ensure You'Re Making The Right Material Decision For Your Application. Contact Us Today To Talk With Our Engineering Team About Your Metallic Bushes Bearing Specific Application.
Plain Bushes Design Guides
Ready To Talk
To A Bearing Expert?
Tailored Solutions by Bushing Type
Contact us about your custom project
Non-Corrosive Properties For Harsh Salt Water Conditions.
Plain bearing for a wide variety of applications Low-cost and maintenance-free, Worldwide Shipping: Fast & safe shipping. Every time. Everywhere. Engineered Bearings: Engineered bearings feature precision tolerances, proprietary internal geometries, and quality sliding bearing materials. Our cylindrical bushing, flange bushing, thrust washer, plain bushes, bronze bearings, precision sleeve bearings, and sliding bearings deliver strong performance, consistently and reliably.
Corrosion resistance protects against saltwater and rust
Low to no moisture absorption
Lighter weight bearing bushing materials
Maintenance-Free Greaseless Bearing Bushings Eliminate Corrosion in Your Application
We are looking forward to start a self lubricating bronze bushings project with you! At bronzelube.com, we believe in developing a long-term relationship with our clients. As a china self lubricating bronze bushings supplier, we work as partners on your projects, providing optimum solutions and high quality self lubricating bronze bushings. Experience you can trust, service you can count on. Self lubricating bronze bushings forms available in standard dimensions:
Cylindrical bushes
Sliding plates
Flanged bushes
Thrust washers
We've worked together to develop the right solution for your sliding bearings product. We understand what benefit you and are providing what you need."
sleeve Bushing Design & Engineering Capabilities
Expertly Designed To Your Sliding Bearing Bushing Specifications
Browse our bearing application case studies to see how we've solved complex challenges just like the one you're facing now. You can filter by industry or bearing material characteristics. "Customized Self Lubricating Bronze Bushing Reliable From Production To Delivery." Choose Your Self Lubricating Bronze Bushings!
Self Lubricating Bronze Bushings Online Sale
Custom self-lubricating bearings designed renovations completed reliably from start to finish.
Self-lubricating bronze bushings are bushings that are manufactured with some form of pre-lubrication function, designed to provide continuous lubrication over the life of the bearing. This pre-lubrication eliminates the need for any additional additional lubrication. Self lubricating bronze bushings (lubrication free bushings) Basic Compositions
Strong Cast Bronze with Solid Lubricants
Bronze Wrapped Bushings
Bronze Powder with Steel Material
Sintered Bronze
How to add the self-lubricating properties: Some of the first self-lubricating bronze bearings were sintered metal bushings impregnated with oil and manufactured by the powder metallurgy process. An additional method of self-lubrication is the use of plugs with solid lubricant. More precisely, a plug resembling graphite or graphite. The self-lubricating graphite plugged bronze bearings are made of cast bronze.
Top quality
Oilless Bushes Features, The promise of bulk order self lubricating bronze bushing high quality, meet your requirement.
Self lubricating Bronze Bushings
Small minimum order value & quantity, fast delivery.
Bronze Bushings Solutions
Provide high-quality self-lubricating bronze bushings solutions for small and medium-sized enterprise clients without a middleman.
Global Supplier
A self-lubricating bronze bushing is essentially a bronze bearing that is impregnated with a grease that will be generated from the material when it is needed to be used.
Custom Wrapped Bushing
Self-lubricating bronze bushing, as the name suggests, provide their lubrication during operation without requiring the application of grease or oil lubricants.
Self Lubricating Bronze Bushing Work Reliability
✔ Standard-Stocked Online Sales Economy, Maintenance-Free, Self-Lubricating Bronze Metal Bushing For Longer Life – Bronzelube.Com. Self-Lubricating Bronze Metal Bushing & Slide Bearings Extend Service Life & Reduce Costs By Up To 40%. They Are Maintenance-Free, Universally Applicable & Resistance To A Wide Range Of Extreme Conditions And Chemicals.
Tribology Surrounds You!
Discover How Tribology Keeps Life Moving, your Self-lubricated Bushing Supplier. From offshore oil and agricultural machinery harvesters bearing bushing, our self-lubricating bronze bearings can help you reduce warranty claims on your equipment.
Check out our online bronze lubricating bushing catalog with more than 1,000 products with full type & size available for download – all free of charge! We offers a growing portfolio of engineered bi-metal bearings and thin-walled bearings bushings products and services to keep industries moving efficiently and reliably.