Price and delivery time on request
Self-lubricating
Flanged bush
Factory Order Item
Standard production according to DIN dimensions, maintenance-free, environmentally friendly.
Maintenance-free flanged bush, thin-walled, bronze with solid lubricant Highly wear- and dirt-resistant, insertable at high temperature!
Properties:
| | |
| --- | --- |
| Base Material: | Special Brass (SO#50SP2) |
| Self-lubricating: | Yes |
| Lubricant: | Graphite |
| Surface Pressure P: | 100 N/mm² |
| Sliding speed v: | 30 m/min |
| P*v-value: | 200 N/mm² x m/min |
| Operating temperature: | -50°C / +200°C (max. 300°C) |
| Friction coefficient: | 0,07 |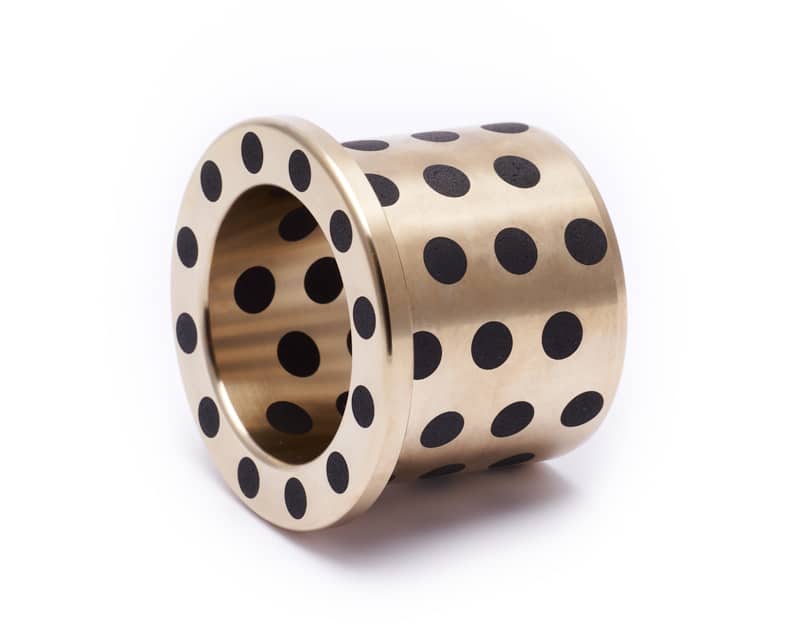 Customized Flanged guide bush, brass with solid lubricant make it Unique.
We offer a large selection of graphite copper sleeve and flange bushing.
MAINTENANCE Self-lubricating flange bushing, highly durable, and reliable bushing supplier with or without graphite plugged. Learn more!
CUSTOM-MADE STANDARD PRODUCTS
Choose your industry
Online website: bronzelube.com for CUSTOM-MADE PRODUCTS
Besides the big variety of standard flange lubricant bushing products, we offer custom-made rotation-and milled-parts. Our expert team will gladly advise you, also at your side.
The benefits of flanged lubricant bushing
Slide bearing, Maintenance
Higher load-bearing capacity and reduced footprint
Higher resistance to vibration and increased lifetime
Easier installation
Lower installation costs
Increased shaft tolerances possible
Compensates misalignment and reduces the edge load
We offer a large selection of guides flanged lubricant and bearing elements. Guide flange lubricant bushing according to your requirement.
Finished Bronze Flange Bushing Parts, easy to machine. 
Milling

Drilling

Grinding

Reaming
Turning
19,270
Flanged Lubricant Bushing Project.
* Extremely high-quality brass material and compact design with high durability. 
Learn More
!
Self-lubricated Bearing Sulutions
INNOVATIVE OILLESS SLIDING BEARING TECHNOLOGY
Stepping forward together with our customers,
Technologies for top performance!
Always tested. Always proven. Always Bronzelube.com