Thrust washers – maintenance-free, made of metal
Low coefficient of friction, thrust washer, mm
Thrust Washer Design- Manufacturers & Suppliers in China
Browse our metal-polymer, engineered plastic, fiber reinforced, metal and bimetal and other bearings. Find the right bushing and buy china thrust washer & plain bearings. Application Industrial -Agricultural Equipment, Construction Equipment, Food And Beverage. Material : (Metal-Polymer Composite Self-lubricating Bushing Material Steel Back+Porous Bronze Sinter+PTFE. Self-Lubricating Thrust Washer, Carbon Steel, Inch
Deliver Lifetime Cost Savings and Significant Operating Advantages. Non-galling. Increased reliability. Reduced costs & downtime. Hi-Temp Thrust Washer & Plain Bearing Solution. Run dry & keeps running. Services: Custom Design, Engineering Support, Short Lead Times.
Type of Thrust Bearing Low Friction,Plain Bearings,Wear Resistance!
Maintenance-free Metal-Polymer Anti-Friction Plain Bearings
Yoga takes you into the present moment. The only place where life exists.
Sliding Bearing Technology: Thrust Washer base material: Steel, Intermediate layer: Sintered bronze. Sliding layer : PTFE
Plain Bearings and Sleeve Bearings from www.bronzelube.com
High Speed Thrust Bearings
All available in standard or custom sizes and shapes, and manufactured to precise specifications.
Self-lubricating Thrust Washer offer very good wear and low friction performance over a wide range of loads, speeds and temperatures in dry running conditions. Bushing material suitable for lubricated applications: Anti-friction bearing suitable for linear, oscillating and rotating movements. Manufacturer, Importer and Trader Of Cylindrical Bushes, Bronze Bearings, Spherical Washer, Bush, Flanged Bearing, Composite Bearings, Thermoplastic Bearing Compound, Cylindrical Bearing, Thrust Washer, Hardened Stainless Steel Bush Bearings, Fiber Bearing,
Top Quality, Request A Quote
Composite bearings are available as bushes, plates, bearing segments and special forms, depending on the particular material type.
High Quality Thrust Washer Supplier
Thrust washer bearings are flat bearings that are typically inserted between a rotating component and a stationary component!
Our capabilities include component design, thrust washer & palin bearing material selection, prototype, production, and manufacturing.
Thrust Washers
The thrust Washer Bearing series has a composite structure consisting of a carbon steel backing, an intermediate layer of sintered bronze, and a PTFE-based sliding lining. Available in inch and metric sizes.
Custom Plain Bearings Components
Components manufactured to your exact specifications
Sliding Bearing Materials
Improve & extend the performance of Brass Bushing
Flange bearings – Plain bearing within mountable housing unit

Sleeve bearings – Always self-lubricating & grease-free

Customized Brass Bearings – We will manufacture the exact self-lubricating bearing you need at a low cost.

Groove Brass Bushings – Easy to install

Brass Beraring Material design – Cost-effective
Ask The Expert
Engineering assistance & self-lubricating material selection support.
shaft

Code

Washer Size

mounting dimension

d +0.25

D -0.25

T -0.05

M ±0.12

h+0.4
+0.1

T±0.2

D1+0.12

8

WC10
SF-1

10

20

1.5

15

1.5

1

20

10

WC12
SF-1

12

24

18

24

12

WC14
SF-1

14

26

20

2

26

14

WC16
SF-1

16

30

23

30

16

WC18
SF-1

18

32

25

32

18

WC20
SF-1

20

36

28

3

36

20

WC22
R-1

22

38

30

38

22

WC24
RCB-1

24

42

33

42

24

WC26
SF-1

26

44

35

44

26

WC28
SF-1

28

48

38

4

48

30

WC32
RCB-1

32

54

43

54

36

WC38
SF-1

38

62

50

62

40

WC42
SF-1

42

66

54

66

46

WC48
SF-1

48

74

2

61

1.5

74

50

WC52
SF-1

52

78

65

78

60

WC62
SF-1

62

90

76

90
Composite thrust bearing plain washer
1. The mixture of modified polytetrafluoroethylene (PTFE) lead (Pb) 0.01~0.03mm, a wear-resistant material, can form a transfer film during operation to protect the counter-grinding shaft.
2. The copper powder layer of 0.2~0.3mm improves the bonding strength of PTFE/Pb and steel plate, and has good bearing capacity and wear resistance. At the same time, copper is a good thermal conductive material, which can quickly transfer the heat generated during the operation of the bearing.
3. Low carbon steel 0.7~2.3mm, improve bearing capacity and heat transfer.
4. Copper/tin plating layer, copper plating layer 0.008mm, tin plating layer 0.005mm, so that the bearing has good corrosion resistance.
TECHNICAL DATE
Engineered Self-lubricating Thrust Washer Solutions
Your engineering partner from prototype to production
Thrust Bearings Technical Library
Spec sheets, design worksheets, case studies & brochures
Engineered Plain Bushing Solutions
Product Description
The Dryslide trademark identifies a whole range of self-lubricated dry sliding bearings. A composite structure, Thrust washer consists of a carbon steel backing, an intermediate layer of sintered bronze, PTFE/fibre mixture sliding lining. The main items in the Thrust washer range are the wrapped cylindrical bushings (DIN 1494) and the flanged cylindrical bushings. Moreover, the range also includes thrust washers, strips and special parts made to customer specifications. From a technical point of view, the product is already widely known and new applications are constantly being identified to take advantage of the high load capacity, the self-lubricated feature and the excellent ratio between cost and performance of the whole range.
The Thrust washer is suitable for dry running applications. It possesses good wear properties as well as a low coefficient of friction that will extend the life of your application. It can be used in both rotary and oscillating applications. Other features include high chemical resistance, low water absorption and swelling. The thrust washer will also perform well with lubrication.
Steel bronze powder with PTFE/Fibres mixture
1. PTFE fibres mixture 0.01-0.03mm, lead-free: provides an excellent initial transfer film, which effectively coats the mating surface of the bearing assembly, forming an oxide type solid lubricant film.
2. Sintered bronze powder 0.20-0.35mm: provides maximum thermal conductivity away from the bearing surface, also serves Dryslide structural details a reservoir for the PTFE-lead mixture.
3. Low-Carbon Steel: provides exceptionally high load-carrying capacity.
4. Zinc/Tin plating 0.002mm: provides good corrosion resistance
A dry-running thrust bearing with a low coefficient of friction, good wear properties and sliding characteristics. It can be used in both rotary and oscillating applications
Request for quotation.
Whether you need engineering assistance or self lubricating material selection support, our Ask the Plain Bearings Experts feature provides a quick and easy way for you to upload your drawing and submit questions to our engineering team.
Can meet the demanding criteria for long life and trouble-free performance with or without lubrication.
Automotive: tractors, combines, crop sprayers, earthmovers, and road graders. Specific uses in power steering cylinders, steering gear thrust washers, disc brakes, calipers, pistons, shock absorbers, governor linkage, windshield wiper motor, and tilt gear assemblies…
Office Equipment: photocopy machines, mail sorters, postage meter systems, computer printers, peripheral equipment, automatic printing devices, and mail processing machinery…
Hydraulics and valves: pumps including gear, rotary, water, axial piston, and other types, ball, butterfly, poppet steam, and other valves and valve trunnions…
Home Appliances: refrigerators, air conditioners, vacuum cleaners, polishers, sewing machines, ovens, dishwashers, and washing machines…
Materials handling: pallet trucks, scissor lifts, packaging machinery, and textile equipment…
Bronzelube the Advantage Is Yours
Thrust Washer Size & Dimensions
DU TYPE WASHERS – METRIC
View our DU type thrust washers here in metric sizes. Buy now for great prices.
Special dimensions are available on request
TFW10 10X20MM DU TYPE WASHER
Outside Dia (mm) : 20 Inside Dia (mm) : 10
TFW12 12X24MM DU TYPE WASHER
Outside Dia (mm) : 24 Inside Dia (mm) : 12
TFW14 14X26MM DU TYPE WASHER
Outside Dia (mm) : 26 Inside Dia (mm) : 14
TFW16 16X30MM DU TYPE WASHER
Outside Dia (mm) : 30 Inside Dia (mm) : 16
TFW18 18X32MM DU TYPE WASHER
Outside Dia (mm) : 32 Inside Dia (mm) : 18
TFW20 20X36MM DU TYPE WASHER
Outside Dia (mm) : 36 Inside Dia (mm) : 20
TFW22 22X38MM DU TYPE WASHER
Outside Dia (mm) : 38 Inside Dia (mm) : 22
TFW24 24X42MM DU TYPE WASHER
Outside Dia (mm) : 42 Inside Dia (mm) : 24
TFW26 26X44MM DU TYPE WASHER
Outside Dia (mm) : 44 Inside Dia (mm) : 26
TFW28 28X48MM DU TYPE WASHER
Outside Dia (mm) : 48 Inside Dia (mm) : 28
TFW32 32X54MM DU TYPE WASHER
Outside Dia (mm) : 54 Inside Dia (mm) : 32
TFW38 38X62MM DU TYPE WASHER
Outside Dia (mm) : 62 Inside Dia (mm) : 38
TFW42 42X66MM DU TYPE WASHERS
Outside Dia (mm) : 66 Inside Dia (mm) : 42
TFW48 48X74MM DU TYPE WASHER
Outside Dia (mm) : 74 Inside Dia (mm) : 48
TFW52 52X78MM DU TYPE WASHER
Outside Dia (mm) : 78 Inside Dia (mm) : 52
TFW62 62X90MM DU TYPE WASHER
Outside Dia (mm) : 90 Inside Dia (mm) : 62
TFW95 95X115MM DU TYPE WASHER
Outside Dia (mm) : 115 Inside Dia (mm) : 95
Thrust Washer Catalog – Search Thrust Bearing Size
CAD DRAWINGS
Get access to thrust washer equivalent drawings
Metal-Polymer Plain Bearings & Thrust Washer Application
1. No oil lubrication or less oil lubrication, suitable for refueling or more difficult refueling occasions, can be used without maintenance or less maintenance;
2. Good wear resistance, small friction coefficient, long service life; 3. Can be used in the range of -195℃ ~ +280℃;
4. Good running performance, low noise, no pollution; 5. Thin wall structure, light weight, can reduce the mechanical volume;
6. Transfer film can be formed during operation to protect the grinding shaft without shaft biting;
7. The hardness of the grinding shaft is low, and the shaft without quenching and tempering treatment can be used, thus reducing the processing difficulty of relevant parts;
8. No water absorption, oil absorption, small thermal expansion coefficient, good heat dissipation, stable size;
9. The back of the steel can be electroplated with a variety of metals, so it can be used in corrosive media and will not rust;
Currently has been widely applied to various mechanical sliding parts, such as automatic mechanical equipment (scale, swing, slide, bending, cyclotron, turning parts) guide set of hydraulic cylinder, gear pump pu, textile machinery, vending machines, plastic molding machine, die-casting machine, rubber machine, tobacco machine, fitness equipment, office machinery, hydraulic handling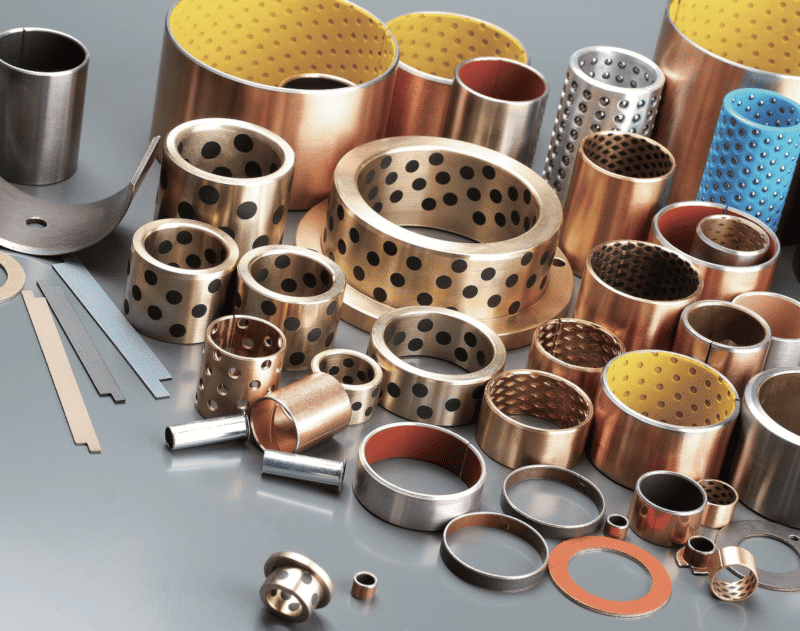 PTFE Thrust Washers | Products & Suppliers
Self-Lubricating Thrust Washers, carbon Steel, Metric, Groove Effects on Thrust Washer Lubrication.
has a large selection of Self-Lubricating, Carbon Steel, Metric, Thrust Washers and other Plain Bearing Products.
thrust washers – metric. ✓ Available for autoCAD, Thrust washer HS code, Search Plain thrust washer HS Code for Plain bearing import and export at bronzlube.com
AVAILABILITY
Thrust Bearing For Sale
Description: Self lubricated washers. Carbon steel shell with sintered bronze layer filled with PTFE. Available in metric and imperial sizes from stock. Also bronze shell versions can be supplied to order.
Sed porttitor lectus nibh. Vivamus magna justo, lacinia eget consectetur sed, convallis.
Cast Bronze Machine Washer Available
Maintenance-free bearing material for heavy duty applications
Excellent performance under high loads and intermittent operation
Also available with graphite inserts for temperatures above 450°C
Request A Sample – High Performance PTFE, Thrust Washer Bearing Metric & Imperial sizes
Available in PTFE, POM or self-lubricating washer, etc.
Thrust Washer Bearing Design Features Innovation, Safety, Performance
Cylindrical Bushes
Flanged Bushes *
Thrust Washers
Flanged Washers *
Strip Material
Metric sizes only
The right thrust washer bearing solution for every application.
Thrust Washer Bearings are used in Various Industries