We are a non profit organization
Flanged Bushing, Self-lubricating Bearing Bushes
Bronzelube is an integrated production and trade enterprise that aims to be the world's leading spare parts supplier for after-market and OEMs. DU Type Split Bearing Bushes – Flanged Type – PTFE lined, These Du Bush Bearings are widely used in the Machinery Industry. (Inside Diameter x Outside Diameter x Flange Size x Length)
Metal-Polymer Composite Self-lubricating Bushing Du Bushes Material
Steel Back + Porous Bronze Sinter + PTFE + Lead
Sintered PTFE and Bronze on Steel Backing (Maintenance-free Material)
Garlock Bearings Du Bushing
Self-Lubricating Metric Flanged Du Bush
Tin-plated steel / PTFE
DIN 1494 / ISO 3547
Maintentance-free
Sed porttitor lectus nibh. Vivamus magna justo, lacinia eget consectetur sed, convallis.
How do self-lubricating bearings improve machine efficiency?
Self-lubricating Du Steel Backing Sleeve Bushing, Metric Size PTFE Material, Most self-lubricating bushing bearings contain polytetrafluoroethylene (PTFE) in the sliding layer. One of the characteristics of PTFE is its extremely low coefficient of friction, which reduces bearing friction, bearing wear, and most importantly, energy consumption. As a result, the overall efficiency of the equipment and machinery increases for reduced power input and higher power output.
Can self-lubricating bearings be run dry in order to eliminate lubricants
The self-lubricating bearing product line is ideally suited for operation in dry conditions, providing the end customer with completely maintenance-free operation.
Key benefits are
Reduced costs through simplified design and assembly by eliminating lubricants
Improved machine availability and efficiency, reducing downtime for regular bearing lubrication
More environmentally friendly operation as potential contamination from lubricants is avoided
When do self-lubricating bearing bushings run with lubricant?
Self-lubricating bearings are also necessary when operating under boundary or edge lubrication. These conditions occur when the thickness of the lubricant film is too low to prevent metal-to-metal contact and wear between the bearing and sliding surfaces due to high loads, low speeds, and insufficient lubricant viscosity. For equipment operating at low idling speeds and during frequent start-stop operations, the self-lubricating characteristics of self-lubricating bush bearings significantly improve machine efficiency by reducing bearing wear and increasing the risk of play, noise and ultimately equipment seizure.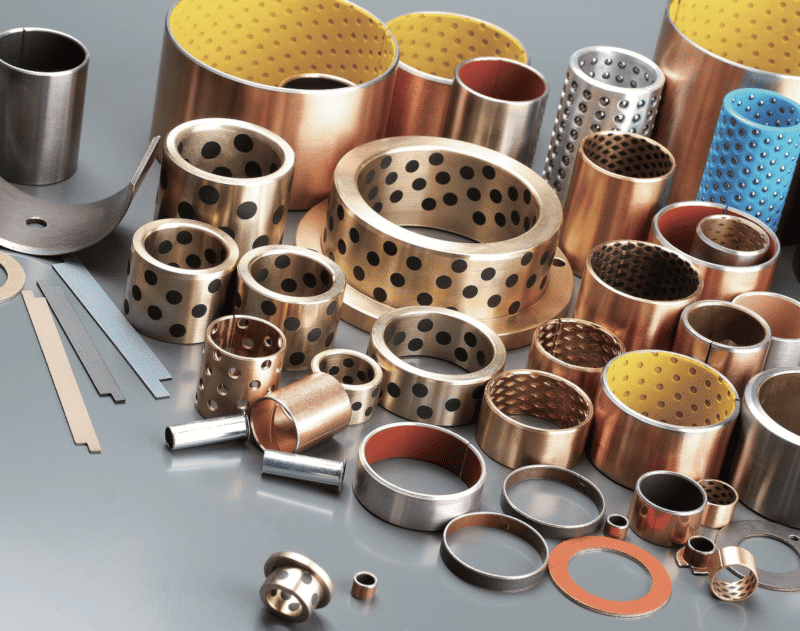 Flange Du Bush Features
R & D production and sales integration for cylindrical & flange du bush
DU Type Split Bearing Bushes – Flanged Type – PTFE lined. (Inside Diameter x Outside Diameter x Length) These DX Bush Bearings are widely used in the Machinery Industry. Wrapped composite sliding bearing feature
Bronze Bushing Solutions
Eliminate Lubricants
Increase Service Life
Improve Efficiency
Replace Roller Bearings
Reduce Size / Weight
Simplify Assembly
Eliminate Corrosion
Reduce Noise
Composite bearing material consisting of 3 bonded layers; Alloy steel support with a porous intermediate layer in sintered bronze impregnated and coated with polytetrafluoroethylene (PTFE). Lead-free.
Top quality, Customized Bush
The promise of flange du bush high quality, meet your requirement.
Flanged Du Bush
Small minimum order value & quantity, fast delivery.
Anti-friction Bearings Bushing
Tribology is the Science of Friction, Wear and Lubrication.
Learn how antifriction products and solutions for self-lubricating bearings can provide better bearing performance for your application.
Self-lubricating, anti-friction plain bearings and bushings offer many benefits in a wide range of industries and applications, including automotive, construction, energy, industrial, recreational and many more.
Anti-friction bearings and bushings, PTFE and POM, are quickly becoming the industry standard for high-performance plain bearing solutions.
As customer demand and expectations for superior plain bearing performance continue to grow, the self-lubricating bearing line now includes unique anti-friction bearing types, anti-friction bearing grease!
Sed porttitor lectus nibh. Vivamus magna justo, lacinia eget consectetur sed, convallis.
Steel Backed Bronze Layer PTFE Coated Flange Sleeve Bearing Oil Free DU Bushing
Flanged Steel Backed DU Split Bushes Characteristics
Working temperature from -200o to 280o Celsius. Maximum load 250 N / mm2.
Lubrication-free, maintenance-free. Shows low wear and tear resistance.
High static and dynamic loading, good frictional properties with little stick-slip. Resistant to solvents, compact and lightweight.
No water absorption, no electrical conductivity and no electrostatic effects, good pouring ability and resistance to dusty environments.
Good buildability and resistance to dusty environments. Speed ​​limit in oil 5 meters of surface speed per second.
Bronze Bearing forms available in standard dimensions
Cylindrical PTFE bushing
Flanged du bush
Thrust washers
Flanged bronze washers
Sliding plates
Bronze Bearing forms made to order: cylindrical bushes with non-standard lengths and wall thickness, flanged bearings, customized bearing designs.
Bushing & Bearings Specialists For Manufacturing & Machining Of All Types. Free Design Assistance. Wide Variety & Selection. Expert Customer Service.
1. The mixture of modified polytetrafluoroethylene (PTFE) and lead (Pb) 0.01~0.03mm, a wear-resistant material, can form a transfer film during operation to protect the counter-grinding shaft.
2. The copper powder layer of 0.2~0.30mm improves the bonding strength of PTFE/Pb and steel plate, and has good bearing capacity and wear resistance. At the same time, copper is a good thermal conductive material, which can quickly transfer the heat generated during the operation of the bearing.
3. Low carbon steel 0.7~2.3mm, improve bearing capacity and heat transfer.
4. Copper/tin plating layer, copper plating layer 0.008mm, tin plating layer 0.005mm, so that the bearing has good corrosion resistance.
Du Flange Bushing Physical & Mechanical Properties
| | | |
| --- | --- | --- |
| Items | Value | Unit |
| Thermal Conductivity | 40 | W/mK |
| Maximum Operating Temperature Tmax | 280 | °C |
| Minimum Operating Temperature Tmin | -200 | °C |
| Compressive Yield Strength | 350 | N/mm2 |
| Maximum Static Load Psta,max | 250 | N/mm2 |
| Maximum Dynamic Load Pdyn,max | 140 | N/mm2 |
| Maximum Sliding Speed V-dry | 2.5 | m/s |
| Maximum PV Factor-dry, continuous operation | 1.8 | N/mm2 * m/s |
| Maximum PV Factor-dry, intermittent operation | 3.5 | N/mm2 * m/s |
| Coefficient of friction f-dry | 0.02-0.25 | |
| Coefficient of friction f-oil lubricated | 0.02-0.12 | |
ID

H7

CODE

SIZE

f1

f2

d1

d2

d3±0.25

L±0.25

l1-0.2

6-0.013
-0.028

8+0.015

06040

6

8

12

4

1

0.5

0.3

06070

7

8-0.013
-0.028

10+0.015

08055

8

10

15

5.5

08075

7.5

10-0.016
-0.034

12+0.018

10070

10

12

18

7

10090

9

10120

12

12-0.016
-0.034

14+0.018

12070

12

14

20

7

12090

9

12120

12

14-0.016
-0.034

16+0.018

14120

14

16

22

12

14170

17

15-0.016
-0.034

17+0.018

15090

15

17

23

9

15120

12

15170

17

16-0.016
-0.034

18+0.018

16120

16

18

24

12

16170

17

18-0.016
-0.034

20+0.021

18120

18

20

26

12

18170

17

18200

20

20-0.020
-0.041

23+0.021

20115

20

23

30

11.5

1.5

0.8

0.4

20165

16.5

20215

21.5

22-0.020
-0.041

25+0.021

22150

22

25

32

15

22200

20

25-0.020
-0.041

28+0.021

25115

25

28

35

11.5

25165

16.5

25215

21.5

30-0.025
-0.050

34+0.025

30160

30

34

42

16

2

1.0

0.5

30260

26

35-0.025
-0.050

39+0.025

35160

35

39

47

16

35260

26

40-0.025
-0.050

44+0.025

40260

40

44

53

26

40400

40
APPLICATION CHARACTER
1. Oil-free lubrication or less oil lubrication, suitable for occasions where refueling is impossible or difficult, and can be used without or with little maintenance;
2. Good wear resistance, small friction coefficient and long service life; 3. It can be used in the range of -195℃~+280℃;
4. Good running-in performance, low noise, no pollution; 5. Thin-walled structure, light weight, can reduce the mechanical volume;
6. A transfer film can be formed during operation, which protects the grinding shaft and does not bite the shaft;
7. The hardness of the grinding shaft is low, and the shaft without quenching and tempering treatment can be used, thereby reducing the processing difficulty of related parts;
8. No water absorption, oil absorption, small thermal expansion coefficient, good heat dissipation, stable size;
9. The back of the steel can be electroplated with various metals, so it can be used in corrosive media without rusting;
At present, it has been widely used in the sliding parts of various machinery, such as automatic mechanical equipment (telescopic, swing, sliding, bending, swinging, rotating parts) hydraulic cylinder guide sleeve, gear pump, textile machinery, vending machine, plastic molding machine, Die-casting machines, rubber machinery, tobacco machines, fitness equipment, office machinery, hydraulic trucks, automobiles, motorcycles, agricultural and forestry machinery, etc.
How do self-lubricating bush bearings extend service life?
Proprietary self-lubricating bearing constructions and cover compositions include special anti-wear additives that provide high wear resistance for extended service life. The inert nature of the fiber stainless steel self-lubricating composite bearing material and bronze graphite bronze bushing series are suitable for many corrosive environments.
Self-lubricating bushing bearings eliminate corrosion, Sliding bearings have a larger contact area, higher load capacity, excellent shock load resistance, and are better able to withstand edge loads.
Self-lubricating bushings extend service life, Noise reduction! Size/weight reduction!Our experts are ready to help you find the right solution for your specific application.
Simple Assembly, Are self-lubricating sleeve plain bearings easy to assemble?

Bearings typically require inexpensive technology and tools, simplify assembly, and can be mounted directly into the housing without the need for cooling or heating equipment!
Production Machines & Development.
Our team is sensitive with the dimension requirements and is able to meet the very strict tolerance.
Saves You Time & Money In Bronze Bushing Research, Design & Production Costs.PTFE Flange Bushing Alternative Du Bushing
Excellent sliding Bushing
Excellent sliding and wear behavior, for all types of movement, high load-bearing capacity, fully adaptable. Flanged Bushing, Metal-Polymer Anti-Friction Plain Bearings
Metal-Polymer Anti-Friction Bearings
CNC Multi-Turning & Milling Combined Machines
CNC Lathe Machines
CNC Milling Machine
Stamping (Pressing) Machines
Bending Machines
Polishing Machines
Continuous Furnace
high load-bearing capacity, fully adaptable.
Injection Machines
Surface Flat Grinding Machines
Centerless Grinding Machines
Ball Grinding Machines
Mirror Lapping Machines
Ultrasonic Cleaner
Cutting Machine
Professional production equipment and advanced processing technology.
A wide assortment of bushings in various designs and from different materials available from stock. Du flanged bushes, PTFE lined, Steel backing, Self lubricating dry bearings
Free du bushings samples for approval

Reliable & safe PTFE bushing supplier

Small minimum order quantity
Determined to become the world's leading supplier.
Committed to the wolrd's leading parts supplier for the aftermarket parts of commercial vehicles, aricultural machinery and construction machinery.
Du bush application
Markets
Agriculture
Automotive
Construction
Energy
Fluid Power
General Industrial
Primary Metals
Oil & Gas
Recreational
* Our enterprise, is one of the undisputed supplier of the highly competitive bulk order buttons industry in china.
More flange du bush products from china
Flange Sleeve Bearings Supplier, Imperial & Metric
We're here to help
Always tested. Always proven. Always Bronzelube.com, Choose from our selection of flanged bushings in a wide range of styles and sizes. In stock and ready to ship.
Flanged Sleeve Bearings Made From Steel Metallic & bronze.
Plain Sleeve & Flanged Bearings, has a vast inventory of plain sleeve and flanged bearings for purchase.