QUALITY
Sliding Bearings Quality: approved and tested – bronzelube.com
Quality is confirmed. … Our quality policy is based on the objective of identifying and meeting customer needs, and of being a professional partner and reliable supplier. bronzelube.com is always committed to manufacturing products with the highest quality standards and to developing innovative solutions.
The bronzelube.com test laboratory: rigorous testing for guaranteed quality.
Composite Plain Bearing Materials Are Often Implemented Into A Larger System Where Failure Can Be Catastrophic. To Avoid Failures, We Offer Quality Assurance A System Of Quality Checks Throughout The Process, Performed By A Team Of Expert Engineers. Sliding Bearing Quality, certifications, and approvals. Quality from the bronzelube.com test laboratory. "With bronzelube.com, there is an ease of collaboration and communication. In addition, their material technology for self-lubricating bearings is excellent. I've seen other PTFE bearings with adhesives that were not fully proven, but everything we saw from the composite bearing's met or exceeded our expectations."
Ready To Start Customizing?
Every interaction, every touch point, every order gives us an opportunity to demonstrate our quality to our customers. A Global Commitment to Premium Quality – Sliding Bearing Quality, So what makes a us stronger? The viiplus name – it means quality. The kind of quality you deserve. and the price of sliding bearings, then you can trust it.
Tailor To Your Needs
Sliding Bearings in high-quality fittings, Your standard quality sliding bearing, which is to say excellent. For now, so long as they are made from China, Save Your Cost. Our Measurement of Quality Quality is the cornerstone of VIIPLUS's reputation. The Sliding Bearing Quality Management System reinforces our quality core value through targeted, disciplined best practices for all levels of the organization, including both manufacturing and service processes.
Design Your Bearings
Partner for quality sliding plain bearings, Steel Bushing Quality.. Material Test results improve our online sliding bearing sourcing, ensure the sliding bearing technical quality level. Our Continuous Commitment to Quality – Sleeve Bearing – Quality Sliding Bearings Online The VIIPLUS Sliding Bearing Company
Custom Manufacturing
We can help with your unique projects too. Whether you want to make replacing your self-lubricating bearings last longer or you're facing a repair situation, we can provide manufacturing self-lubricating bearing designs, provide quotes and the best course of action, from materials to design to manufacturing to finalizing production parts and packaging for shipment, with the level of quality and attention to detail you've come to expect from us. If you're having a bad week, we're here to help you.
Self Lubricating Bronze Bushing & Wear Plates Products & Suppliers
Accidents happen;

we're here to help.

High-Quality Bearings Assurance!
Repair self-lubricating high quality parts, Need More Information? Eliminating Maintenance.
"The china mold and die components supplier, High-quality oilless bearing material."
Longer Lasting Bearings & Bushings Harder Working
WHY COMPOSITE BEARINGS?
Tailored to meet your design and performance needs, composite bearings are reinforced self-lubricating grease bearings that provide strength and performance. They are ideal for replacing traditional metal bearings because they last longer and can save you money over time.
You can rely on the Sliding Bearing Quality
Yoga takes you into the present moment. The only place where life exists.
SPECIFICATIONS
Our engineers will assist your team in determining the best sliding bearings, self-lubricating bushing and finishing for your ideal application. Your chosen metallic bushing can allow for these features in your bearings: Find A Customized Sliding Bearings Parts at bronzelube.com ISO 9001 Certified. Copper Alloy Bearing & Metal Self-lubricating Bearings Supplier. Machine dies and mold parts. We have been recognized as the premier supplier of Self-lubricating Bearing & Bushings. We continually adapt to changing markets and industry demand for greater diversity, higher quality and more eco-friendly customized parts.
Why Composite Bearings?
Self-Lubricating Bushings
The products are available as bushes, flanged bushes, thrust washers and strips and in two material groups. High performance and environmentally safe. Metal/Polymer Composite Plain Bearings. Corrosion resistant for dry and/or wet environments. Impact fatigue resistance means longer composite bearing life.
Find A Your Sliding Bearings Parts?
Our engineers will assist your team in determining the best material construction, design and finishing of self-lubricating plain bearings for your ideal application. Your choice of composite sliding bushing material construction can give your bearing these characteristics
Design Better Performance Into Your Next Project
What comes together to make the sliding bearings? Experience and collaboration. With over many years of developing advanced oilless bearing material, composite dry bearings has tailored unique solutions for each and every customer. Our sole focus is composites. Our only solution is yours.
Our Sliding Bearing Have Helped A Wide Range Of Industries.
Industries We Serve Here Are Just A Few.
CONSTRUCTION
Self-lubricating, maintenance-free bearings
AGRICULTURE
High load sliding bearings to extend the life of your equipment
MATERIAL HANDLING
Lightweight bushing that make equipment stronger.
HYDRAULIC CYLINDERS
Low-friction, low-wear cylinder tubing customized or standard.
OIL & GAS
Custom bushing for Corrosion resistance, maintenance free.
AERIAL LIFTS
Plain Bearings that improve performance and uptime.

Made For You, So You Can Make Moves.
Let'S Work Together Building Your Project!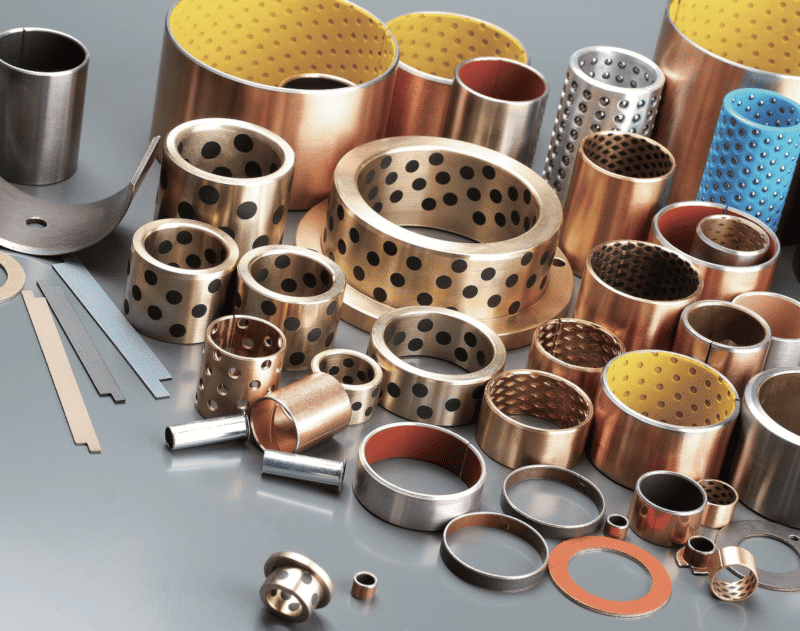 It Doesn'T Get Much More Customizable Than This.
Thanks to our proprietary slide PTFE Lined layer, POM Lined Layer, and bimetal finishing options, there are infinite ways to customize self-lubricating sliding bearing products to your exact specifications – whether we're designing for heavy construction equipment or precise medical surgery instrumentation.
Maintenance free.
Truly self-lubricating with unique wear surface options. Maintenance free bushing. Reduces the total cost of maintaining the bearing. Eliminates the cost of lubricants, self-lubricating bearings in bushings and castings, and maintenance labor costs. Design flexibility. High strength. Light weight. Large or small sizes. Thin or thick walled bushings. Low coefficient of friction, combined with high load carrying capacity. Longer bearing life. Resistance to impact fatigue and corrosion. Higher operating temperature rangeTemperature strain- 100 [°C] to + 300 [°C]. Bushing selection for wet and submerged applications, reliability in contamination, high frequency, low oscillation, etc. Machined holes, cutouts, etc. Machined holes, cutouts and more.
In-process Quality Checks
inspection
In-process Quality Checks
Our dedicated team of quality engineers conducts in-process quality checks throughout the manufacturing process and a final multi-step quality checks as part of the final inspection.
Eliminating Maintenance
Effective, safe, and lubricated material.
Eliminating Maintenance
We ensure your bushing is made using efficient, effective, safe, and lubricated material.
Constantly quality challenging
long–lasting quality for each solution.
Industry expectations.
Ipsum dolor sit amet consect adpisic
elit eiusmod tempor incididunt labore
am tum dolore magna.
Tailor Your Perfect Slide Bearings
We can supply in a wide range of self-lubricating bearings standard and sizes.