Selection replacement cast bronze bearings.
Custom designed bushing completed reliably from start to finish.
Casting Solid Bronze Bearings (with Grooves / Without Grooves), Machined Casting Bronze Bearings Offer Technically & Economically Favorable Bearings Solutions. Rg7 is the most common bronze bearings material worldwide. The material properties makes this alloy well suited for bearings, flange bushes, wear plates and thrust waster products. Pressure-tight with good dry running properties and easy to machine simply makes this an excellent all around bronze alloy. Self-lubricating Bearing Metal Quote – Customizable Gum Metal Bearing Quotes. Upload A Part Today. Fully Customizable Quoting For Sheet Metal Parts. Get A Quote Today. Browse Available Materials. Manufacturer & Supplier – Get Quick & Quality Prototypes. Bronze GuMetal Bushing Products for Sale
Top quality
The promise of cast bronze bearings high quality, meet your requirement.
Re-manufacturing
Small minimum order value & quantity, fast delivery.
Customized Size Bronze Bushing Projects
Special Bushings & Custom Machined Parts Available, Save Cost & Order Today!
Casting Bronze Bushing Supply – High quality factory products! Find metal bushes supplier on bronzelube.com. Get metal bushes quotations from the most suitable suppliers for your business.
Custom Bearings Made From High-Strength Bronze
Customized bearings: Dedicated to providing high performance Customized Bronze Bushing machine parts for any application. In addition to our standard self-lubricating graphite bearings and bushings, we produce custom bearings on a daily basis. We produce the exact self-lubricating bearing or bushing you need at a low price. Let our experts assist you in finding the most efficient manufacturing method and the ideal high performance self-lubricating custom material to meet your specific requirements.
Cast Bronze Bearing Production, Always tested. Always proven. Global website www.bronzelube.com
Online Sales: Customized groove design, custom cast bronze bearings size service.
Save your purchasing cast bronze bushing budget for your project.
Casting Bronze Bushing:
Custom Size
A Bronze Age Process for the Modern Era
Design & Build Completely Custom Bronze Bushing
Design & build completely custom layouts
The Most Complete & Flexible Cast Bronze Bearings Foundry in China,We supply
Request a Custom Bronze Bearing Prototype!
Standard bronze plain bearings and bushings, Custom Bushings – Bronze Bushing Manufacturing, Custom bushings by Manufacturing are custom engineered and come in a variety of common and hard-to-find stocks. Call us today!
the ideal high-performance bronze bushing material
Custom-made Cast Bronze Bushings
Get standard products with modifications replacements. Request Custom Bearings & Bushings. We only need your drawing size with the assembly situation, like load cases and operating conditions, to prove the feasibility. Need custom designed bronze bearings for your application? See how can produce bronze bearings according to desired shape, material, and size. Custom Bushings – Groove Bushing. Custom Bushings. If a standard won't do the job, has the capability to produce a custom bushing to your exact specifications.
High Tensile Brass Bushing
Bronze bushing is a part of mechanical equipment, mainly used in mines,Mountain machinery and equipment, and more widely used in mechanical equipment. In the process of use, bronze bushing is an indispensable part. Commonly used cast bronze bushings materials include:
Brass
Tin bronze
Lead bronze
Aluminum bronze
Phosphor bronze
Bronze Bushing
Aluminium Bronze Bushing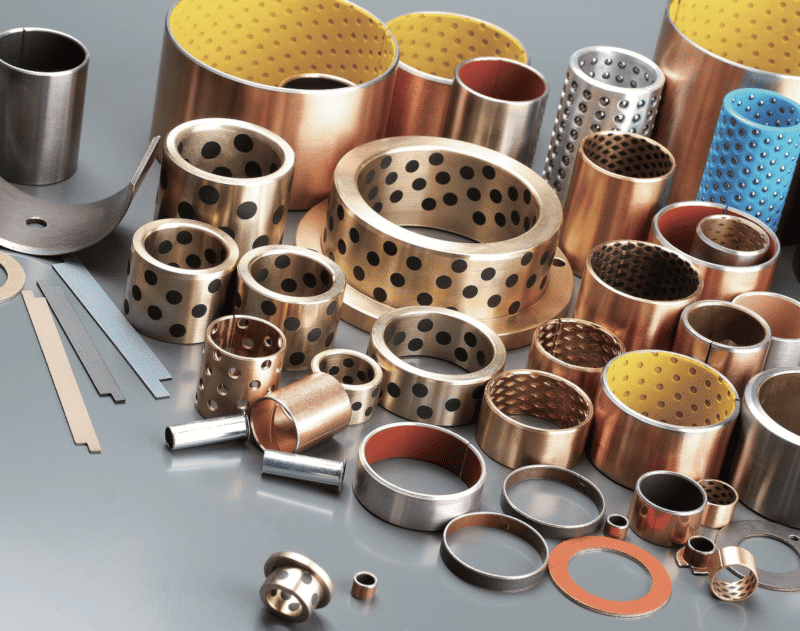 Customized Bushing Sliding Bearings
Customized bushing Machined Bronze Parts
We operate some of the most advanced, precise equipment available. The China Plain Bearings Supplier and Cast Bronze Plugged Graphite Bearing,Custom Machined Parts Manufacturer. check out bushings and buy custom made bushings at an affordable price on bronzelube.com. Enjoy scrolling through China's wholesalers offering quality custom …
Customized Bronze Bushings Grooving Pattern.
Groove parts to our customer's specifications, including single loop, figure eight, double loop, double figure eight, half figure eight, straight, and circular groove patterns.
Customized Solid Bronze Bearings with Grooves
Customized Bushing: We operate some of the most advanced, precise equipment available. The China Plain Bearings Supplier and Cast Bronze Plugged Graphite Bearing,Custom Machined Parts Manufacturer.
Applications: Solid bronze bearings with grooves are commonly used in a variety of industries and machinery. This includes automotive, aerospace, heavy machinery, construction equipment, and more. They are often found in applications where durability, high load capacity, and resistance to harsh conditions are essential.
Remember, the choice of bearings depends on the specific application, operating conditions, load capacity, and other requirements. For high friction or heavy load conditions, solid bronze bearings with grooves could be a good choice due to their excellent durability and performance characteristics.
Solid Bronze Bearing Applications, Small Brass Bushings CuAl10Fe5Ni5 Straight Oil Groove Copper Based
Small Brass Bushings made of CuAl10Fe5Ni5, which includes Straight Oil Groove and is Copper Based, are a specific type of bushing. Bushings are type of bearing that are used to reduce friction and constrain motion in mechanical systems.
Here's some details about this specific bushing:
Material: CuAl10Fe5Ni5, a specific kind of brass or bronze. This alloy typically consists of 10% Aluminum, 5% Iron, 5% Nickel, and the remainder being Copper. This type of alloy is often used in bearings due to its high strength and good resistance to wear and corrosion.

Straight Oil Groove: The straight oil groove refers to the design in the bushing which allows for oil to be retained in the component. This provides constant lubrication to the moving parts, which helps reduce friction and wear over time.

Copper Based: This signifies that the primary material in the alloy is copper. Copper-based alloys, such as brass, are typically resistant to corrosion and have good conductivity.

Size: Being small, these bushings would likely be used in compact mechanical systems where space is limited.
These bushings are typically used in mechanical applications like automotive parts, electrical appliances, machinery, and various types of equipment. They are essential components for reducing wear between moving parts and ensuring the longevity of the equipment.
Solid Bronze Bearing Applications
Solid bronze bearings are ideal for oscillating applications, both axial and radial. General applications:
offshore
Dredging industry
mechanical engineering
elevators
Sand Casting and Centrifugal Casting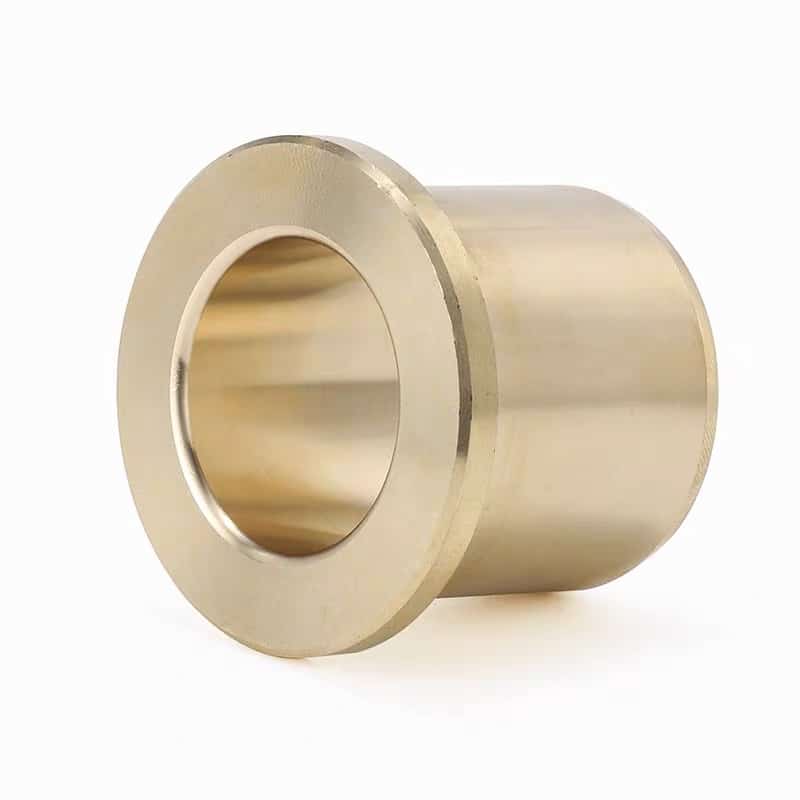 One of the oldest man-made alloys, bronze traditionally consisted of only copper and tin, but today's bronze alloys may contain copper mixed with aluminum, manganese, silicon and a range of other materials, depending on the properties required for the intended application of the alloy. Bronze is easily molded, has a low metal-to-metal friction rating, and can withstand pressure and stress, making it ideal for a wide range of industrial and artistic applications.
Bronze can be molded into complex shapes by a technique known as casting. In this process, molten bronze is poured into a mold. After cooling, the bronze solidifies and the mold is removed, leaving only the predetermined shape.
Industrial bronze casting
Sand Casting
Modern sand casting is still largely based on the bronze casting method used in ancient times. It begins by creating a pattern in the sand and then a mold is made from the sand. Next, a bronze liquid is poured into a hollow mold. Once the metal cools, the mold is removed, leaving the bronze behind, known as "sand casting. Although this method is time consuming, it can create a wide variety of shapes that other processes may not be able to do.
Centrifugal Casting
Centrifugal casting is the preferred method for creating cylindrical bronze bearings. As the molten bronze is poured in, a cylindrical mold rotates around an axis at a constant speed. This method produces parts with a circular inner diameter. Undesirable impurities and foreign matter in the alloy usually collect in this inner ring and can be removed by secondary machining, which is an advantage of this casting process. However, the size and shape of the items produced by centrifugal casting is limited.
Seek to determine which bronze bearing casting process will be suitable to create a product to meet your needs.
Choose your cast bronze bushing bearing material
Self-lubricating graphite bronze sleeve non-standard bushing eight-character oil groove wear-resistant bushing
There are many kinds of bronze bushing sleeves, including machine bronze bushing, bronze bearings, etc. Oil lubricated bearings are used in various large and heavy machinery and are an important component of machinery.
AVAILABILITY
Custom Bearing forms made to order: cylindrical bushes, flanged bushes, thrust washers, sliding plates, pintle bearings, half-bearings, axial and radial segment rings, self-aligning spherical bearings, customized bearing designs
Bronze bearing, also known as bronze bushings, are divided into many types, including machine bronze rollers, bronze bearings, etc. It is used in various light industry, large and heavy machinery and is an important component of machinery. The product has the traditional tin bronze bearing function. It is made of electrolytic bronze as raw material with various trace metal elements, sintered at high temperature, and processed by air pressure centrifugal casting. High hardness, excellent wear resistance, not easy to cause seizure, good casting performance and cutting performance, and good corrosion resistance in the atmosphere and fresh water. In the absence of lubricants and water-based lubricants, it has good sliding properties and self-lubricating properties, easy cutting, poor casting properties, and good corrosion resistance to dilute sulfuric acid. Structural parts for general purposes, simple-shaped castings used in ships, instruments, etc., such as sleeves, bushings, bearing bushes, sliders, etc.
Bronze Bushing Material:
The bronze bushing material is as follows:
ZCuSn10Pb1
High hardness, excellent wear resistance, not easy to cause seizure, good casting performance and cutting performance, and good corrosion resistance in the atmosphere and fresh water.
Can be used for wear-resistant parts that work under high load (below 20Mpa) and high sliding speed (8m/s), such as connecting rods, bushings, bearing bushes, gears, worm gears, etc.
ZCuSn10Pb5
Corrosion resistance, especially to dilute sulfuric acid, hydrochloric acid and fatty acid.
Structural materials, corrosion-resistant and acid-resistant accessories, as well as crusher bushings and bearing bushes.
ZCuPb10Sn10
Good lubricity, wear resistance and corrosion resistance, suitable for bimetal casting materials.
Vehicle bearings, internal combustion engine bimetallic bearing bushes with a peak load of 100Mpa, piston pin sleeves, friction plates, etc.
ZCuPb15Sn8
In the absence of lubricants and water-based lubricants, it has good sliding properties and self-lubricating properties, easy cutting, poor casting properties, and good corrosion resistance to dilute sulfuric acid.
Bearings with high surface pressure and side pressure can be used to manufacture copper cooling pipes of cold rolling mills, parts with impact load up to 50Mpa, bimetal bearing bushes of internal combustion engines, mainly used for piston pin sleeves with load up to 70Mpa, acid-resistant accessories.
ZCuZn38Mn2Pb2
It has good mechanical properties and corrosion resistance, good wear resistance and good cutting performance.
General-purpose structural parts, simple-shaped castings used in ships, instruments, etc., such as sleeves, bushings, bearing bushes, sliders, etc.
Application Features:
JDB-1U oil groove bronze bushing copper sleeve is a kind of bronze bearing lubricated by oil groove oil. The product has the function of traditional tin bronze bearing. Since the high-strength brass (ZCuZn25Al6) is used, its HB hardness is doubled, so using this product in low-speed situations can double the life of the general bronze sleeve, and its The bearing pressure is large, and it can be used in heavy-duty occasions. This product is made of electrolytic copper as raw material with various trace metal elements, sintered at high temperature, and processed by air pressure centrifugal casting.
The products are widely used in textile machinery, injection molding machinery, mining machinery, construction machinery, automobile industry and other fields. The company can choose various grades from China, Germany, Japan, the United States and other countries to make Bronze Bushing, washers, skateboards, half tiles and other products according to customers. Various oil grooves and oil filling holes can be processed on the inner and outer walls according to customer requirements, and can also be processed according to drawings.
Typical use: High purity graphite + additives. SL1 Graphite+add
Good wear resistance and chemical stability, use temperature < 400 ℃
Applied to general machinery, used in the atmosphere
S L 4 + M o S 2
P T F E + M o S 2 + C F
Very low coefficient of friction and good water wettability, operating temperature <300℃
Bronze vs. Brass – What's the Difference? bearing material
Bronze vs. brass
Although these metals are related in composition, appearance, and even application, brass and bronze are often used for different purposes. Thermal conductivity is a good measure to know if a metal will be used in a thermal application because it shows how much energy can be transferred through the material, and at what rate. Brass has a much higher thermal conductivity than bronze, making it an ideal choice for heat sinks. Bronze can also be used for thermal applications, but if the choice is between the two, brass will always take precedence.
Fatigue stress is a stress caused by high cycling of small stresses, which can cause microscopic or even macroscopic fractures to the material over a long period of time. If the material will be under constant stress, such as frequent changes in temperature or load, this value is crucial to understand the integrity of the material, because as long as there is enough cycling, it will chip away at the integrity of the alloy. The fatigue strength ranges for bronze and brass are given in Table 1, as each metal has many alloys. Bronze typically has higher fatigue resistance than brass, as can be seen by comparing the lower limits of their fatigue strength ranges. This property makes bronze more suitable for marine components and springs, which are subjected to constant stress during use.
Brass has a lower average melting point than bronze (917 vs. 1010°C), but they are both easy to cast. If either of these two metals is used to cast a shape, consider the mechanical properties required; a more resilient project is most likely to benefit from bronze, while a more decorative project can use brass to great effect.
Hardness is a measure of how a material responds to local surface stresses, and how it reacts to scratches, dents, etc. The Brinell hardness tester is one of many hardness testers that use their own hardness indenter to rate the material's response to standard forces. For reference, a typical glass scores 1500 on the Brinell hardness tester, while lead scores 5; using these as a benchmark, Table 1 clearly shows that bronze has a higher average hardness than brass. Harder materials are usually more brittle, and bronze follows this rule and breaks more easily than brass. If machinability is a necessity, then brass is a better choice than bronze. However, if strength and wear resistance are concerns, bronze may be a better choice.
Machinability is a comparative score given to metals to show how they respond to machining stresses such as turning, milling, stamping and other procedures. It is important to know a metal's machinability score because it determines what types of machining, if any, can be performed. A metal's machinability percentage is compared to a reference metal that is given a rating of 100% (easy to machine). A metal that is more difficult to machine is given a rating of less than 100%, as is the case with both bronze and brass. There are some alloys that were developed specifically for machining (such as brass alloy C360), but most copper alloys are too ductile to machine. Both of these metals have excellent casting properties, so consider the casting procedure before machining these metals. If machining is necessary, make sure the alloy you choose is made for machining, or you risk gumming up your mill.
Both bronze and brass come in many shapes, sizes and compositions. As always, ask your supplier for the latest information on what is available and which type of bronze or brass will work best for your application.
Attention should be paid to the processing of custom bronze bushing:
Everyone knows bronze set of high hardness, good wear resistance, it is not easy to produce killed the phenomenon, and it also has good casting properties and cutting the processing performance of it has strong corrosion resistance so it in the manufacturing process of the work is also very carefully, so in the process of its craft manufacturing we should need to pay attention to what?The first point: when casting the bronze bushing, each process must be carefully handled. For example, it is required to put the core right in the box to avoid the casting product cannot be processed according to the size due to this reason.The second point: before processing, the castings should be cleaned first, and then the castings should be put on the train. After the correction, the castings should be put on the train when the semi-finished products are processed, and then the castings should be cooled. Because the bronze has shrinkage property, the castings should be put on the train again at room temperature for accurate processing.The third point: after the finished product, especially the straight sleeve should be placed vertically if it cannot be placed horizontally to prevent deformation.The fourth point: packaging, to leave the quantity, avoid in the process of transport by the collision caused by the unexpected deformation.
Bronze Bushing & Bronze Bearing Pursue high technology & good brand, combine the best quality products & reasonable price. we warmly welcome the domestic and international merchants came to hold business talks. Short & Reliable Delivery. Safety Quality Assurance.
Bronze bushing divided into many type, including machine bronze bushing, custom bronze bearing and so on. Oil-lubricated bearings, used in various large and heavy machinery, is an important part of machinery. Bronze bushing sleeve, also known as bushes bronze sleeve, is divided into many types of bronze bushing, including machine bronze bushes, bronze bearing and so on. Used in all kinds of light industry, large, heavy machinery, is an important part of machinery. The custom bronze bushing product has the traditional tin-bronze bearing function, taking electrolytic bronze as raw material with a variety of trace metal elements, after high temperature sintering, through the pressure centrifugal casting processing. High hardness, excellent wear resistance, not easy to kill the phenomenon, has good casting performance and cutting performance, in the atmosphere and fresh water has good corrosion resistance. In the absence of lubricant and water lubricant conditions, good sliding and self-lubricating performance, easy cutting, poor casting performance, good corrosion resistance to dilute sulfuric acid. Structural bronze parts for general use, castings of simple appearance used in ships and instruments, such as sleeves, bushings, bearing bushes, sliders, etc.
Cast Bronze Bearings with Solid Lubricant Inserts! Maintenance-free bearing material for heavy duty applications Excellent performance under high loads and intermittent operation.
Also available with graphite inserts for temperatures above 250°C. Maintenance free bronze bearings with graphite grooves and graphite plugs are available. Graphite acts as a dry lubricant and provides permanent, maintenance-free lubrication. The internal grooves can be filled with a special curable graphite paste. Graphite plugs can be pressed into the bearing wall using a special epoxy resin binder. Typical plunger diameter is 7mm with 25% surface coverage. The graphite plugs can be placed around special features of your parts. Graphite bronze parts should be run dry with no oil or grease. Our graphite plug bearings typically have a coefficient of friction between 0.10 and 0.15, depending on a variety of factors affecting performance. Oil grooves are typically wider and deeper than oil grooves. This is to hold a supply of fat and ensure that the thick fat is pushed in. Oil grooves typically vary in width but are shallower than grease grooves. Most oil grooves operate in a constant loss or closed
Performance.



& Chemical Compositions

CuZn25Al6FeMn3



High Brass

CuZn25Al6FeMn3



Special Brass

CuSn5Pb5Zn5



Tin Bronze

CuAl10Ni



aluminium bronze

CuSn12



Tin bronze

Cast Iron HT250



EB00

Cu%

65

65

85

80

88

Sn%

5

12

Pb%

5

Zn%

25

25

5

Ni%

5

Al%

6

6

10

Fe%

5

Mn%

4

4

Dengity



g/cm

3

8.0

8.0

8.8

8.3

8.8

7.3

Hardness

>210

>180

>70

>150

>80

>160

Tensile Strength

>750

>550

>200

>500

>360

>250

Elongation

>12

>12

15

>10

>8

Coeicient of



linear expansion

1.9·10

-5

/℃

1.9·10

-5

/℃

1.8·10

-5

/℃

1.6·10

-5

/℃

1.8·10

-5

/℃

1.0·10

-5

/℃

Limit Temp.

300~400

300~400

400

400

400

400

Max. Load N/mm

2

100

80

60

50

70

10

Max. Speed m/min

15

15

10

20

10

15

Max. PV N/mm

2

·m/min

200

200

200

200

200

40

400N/mm

2

<0.01

<0.01

<0.05

<0.04

<0.05

<0.015
Custom Size Options, machining bronze bushings and a supplier of solid bronze oilless bushes and plate delivered on time and on budget.
Oilless Bushing Alloy International Code
Chinese Code



GB1776-87

International counterparts

Applications

International



ISO 1338

Japan



Jis

(USA)



ASTM (UNS)

German



DIN

CuZn25AI6FeMn3

CuZn25AI6FeMn3

H5102



CAC304

B30-92



C86300

DIN1709



G-CuZn25A/2.0598

High-load, low speed, general use

CuZn25AI6FeMn3

CuZn25AI6FeMn3

H3102



CAC304

B30-92



C86300

DIN1709



G-CuZn25A/2.0598

Super high load, low-speed, high



duty

CuAI10Fe3

CuAI10Fe3

H5114



CAC703

B30-92



95800

DIN1714



GB-CuAI10NI/2.1096

Medium load, medium-speed,



general use

CuSn5Pb5Zn5

QSn5-5-5

H5111



CAC406

B30-92



C83600

DIN1705



G-Cu5n5ZnPb/2.1096

Medium load, medium-speed

DB5675-85



HT250

Fe250

ASTM



class40

low-load, low-speed
Advantages of solid Custom bronze bushing bronze bearings
Custom bronze bushings are a type of bearing component that can be made to specific requirements and specifications to meet the unique needs of a particular application. These bushings are made from bronze, a material that offers good wear resistance and is ideal for use in high-load, high-stress applications.
To ensure the best performance, custom bronze bushings are often designed and manufactured to very tight tolerances, taking into account factors such as load capacity, speed, temperature, and corrosive environment. This allows the bushing to perform optimally under the conditions it will be subjected to, maximizing its lifespan and reducing the risk of failure.
There are many manufacturers of custom bronze bushings, both large multinational corporations and smaller specialty manufacturers. The choice of manufacturer will depend on a variety of factors, including the specific requirements of your application, the desired level of quality, and the budget for the project.
When choosing a manufacturer of custom bronze bushings, it is important to consider factors such as the company's experience and expertise in the field, their production capabilities, their quality control processes, and their customer service and support. You should also consider factors such as delivery time, cost, and availability of technical support and resources.
In conclusion, custom bronze bushings offer a versatile and high-performing solution for a variety of applications. By carefully evaluating the specific requirements of your application and considering factors such as experience, quality, and cost, you can find the right manufacturer to meet your needs and ensure the success of your project.
Advantages of solid bronze bearings
The main advantages of solid bronze bearings include:
Unaffected by impurities
Suitable for corrosive environments
Suitable for shock loads and vibrations at low speeds
Has a groove to retain the lubricant
Request a custom bronze bearing prototype!
Engineering & Design: Custom Manufacturing Bearings:
Custom Bronze Bushing, Whether you're interested in our self-lubricating bearing solutions or looking to build your own customizable project, let us assist you with a solution based on your specific application and requirements. Contact us today!
Solid bronze bearings with grooves are a particular type of bearings used in various mechanical systems to reduce friction and enhance motion. Here's some detailed information about them:
Material: These bearings are made from solid bronze, which is a metal alloy consisting primarily of copper, with tin as the main additive. Bronze is known for its superior load carrying capabilities, excellent heat dissipation, and corrosion resistance.
Customized Bushing, Oil Groove Bushings
Oil & Grease Groove Bronze Bushings / Bearings: In order to create a more perfect oil film between the bearing and the shaft, we recommend a V-groove whenever the design allows, as it allows the lubricant to flow fully on the bearing surface. Fast delivery with low prices and high precision brass bushings!
With Grooves: The grooves in the bearings play a critical role in lubrication. They are designed to distribute lubricant evenly throughout the bearing during operation. This enhances the performance of the bearing by reducing friction and wear, thereby extending the life of both the bearing and the machinery in which it is used.
Solid: The term 'solid' indicates that the bearing is made of a solid piece of material, rather than being layered or coated. This often results in a more durable and long-lasting bearing that can handle higher loads and more demanding conditions.
Huge rental selection
Cast Bronze Bushings with Solid Lubricant Inserts. Standard Cast Bronze Bearings, grooved bronze bushings, lead-free bearings, Tin Bronze, metric and imperial. High-strength brass is a cast bronze alloy.
Earn passive income
This name is derived from Japanese industrial standards. In fact, it is the name of several types of cast aluminum brass (some are also marked with grades: #500SP).
Oil Grooves & Grease Grooves
Browse, get a quote and order products easily in oil-free parts eCatalog
Offers a complete line of cast bronze bearings and slide plates. Cast bronze sleeve bearings, flange bearings, and custom parts are available with oil grooves or grease grooves. Maintenance-free self-lubricating bronze bearings with graphite filled grooves or graphite plugs are available.
To ensure we consistently deliver top-tier, application-specific products, we maintain close collaborations with universities, research institutions, and our valued customers. This alliance allows us to comprehensively understand and cater to the diverse needs of our customers while also staying abreast of cutting-edge technological advancements.
We focus on tailoring the performance of our products to meet specific application requirements, ensuring the utmost satisfaction and successful implementation for our customers. Our relentless commitment to quality, research, and customer-centric innovation is what sets us apart in the competitive market.