Gas & Steam Turbines – Self-lubricating Bearings
Specialist in developing high performance thrust bearing & plain bearings, engineering bushing, High temperature resistant materials, bronze bushing & metal bearings solutions. Maintenance issues, downtime and increased costs caused by unreliable bearings are challenges that many applications in the renewable energy industry face. That's why we offers innovative bearing solutions designed to prevent costly downtime and equipment failure in hydropower, solar and wind applications. Bushing Bearings Applications Include: Turbines & Actuation Linkages. Use In Both Dry & Wet Conditions. Low Water Swell. Enquire On Our Website Today. Easy Installation. Long Wear Life. Propeller Shaft Bearings. Bracket Bearings.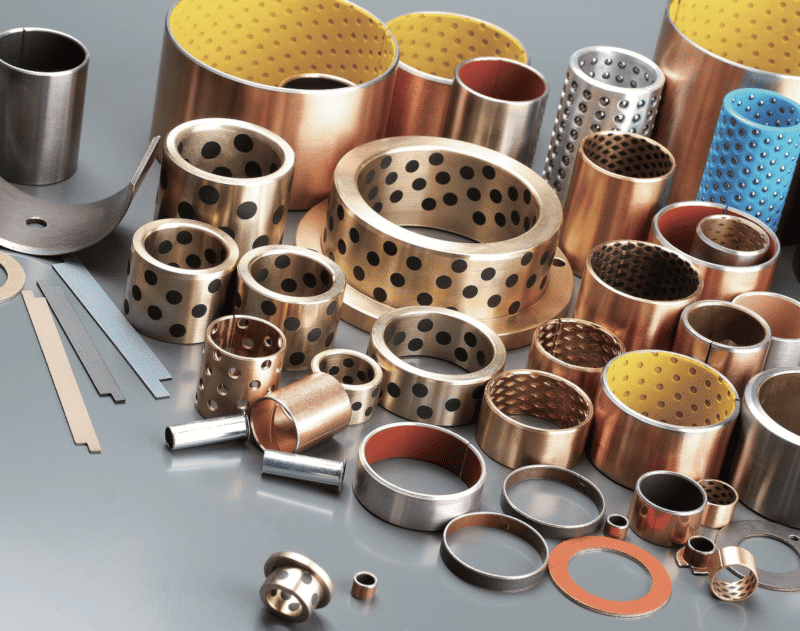 Plain bearing turbine
High Quality Hydro Bearings – Turbine & Hydro Bearings, Specifically designed for use in Turbine Wicket Gates and Operating Ring Axial. Shop now! maintenance-free plain bushing for hydroelectric installations. Ask us for a quote! Free of lubricants. Easy assembly. High energy efficiency.
Sed porttitor lectus nibh. Vivamus magna justo, lacinia eget consectetur sed, convallis.
Plain Bearings Bush For Renewable Energy Industry
Reliable Self-lubricating Bearings Tribology for Wind Turbines, Grease-free bearings that are more environmentally friendly, Corrosion resistant in wet environments
Low friction and wear for extended life
Low water absorption for dimensional stability
Reduced or no maintenance
Longer service life
Lower operational costs
Increased overall system performance
Sed porttitor lectus nibh. Vivamus magna justo, lacinia eget consectetur sed, convallis.
Sliding bearings which contribute to a good environment
The Right Self-lubricating Bearings for Lasting Wind Turbine Performance
Bearing Lubrication – Custom Engineered Solutions, High Performance Machinery. Types: Custom Bushing, Custom Gearboxes Bearing, Equipment Test Sands.
Lubrication Engineers – Industrial Lubricant Bearing
Self Lubricating Bearings For Turbines, Optimal reliability, performance and safety
Wind turbines, also known as wind converters, are devices that convert the kinetic energy of the wind into electricity, and large arrays of turbines known as wind farms are becoming an increasingly important source of intermittent renewable energy. Viiplus's innovative tribology self-lubricating bearings solutions are designed to improve the safety, efficiency and reliability of wind turbines for better energy output. With VIIPLUS sliding bearing and polymer coating solutions, many of the difficulties and challenges associated with wind power generation can be solved. Other applications include sliding bearing and bushes in wind turbines.
Renewable Energy Wind Turbine Bushings Solutions
Use in both dry and wet conditions
Low friction coefficient
High compressive strength
Low water swell
Self lubricating
Dry Sliding Bushings
Plain Wrapped Bushes
POM Composite Bushings
Bimetal Bearings
Graphite Plugged Bushings
PTFE Composite Bearings
High Performance Wind Turbine Bushings Technology Tribology Solutions
High performance plain bearing tribological solutions
Reliable tribology for wind turbines bushing
Viiplus wind turbine bushings bearing and polymer coating solutions can be optimized to meet specific operating conditions, improving the overall performance of the system for maximum service life with excellent wear resistance, low friction and viscosity.
The ideal self-lubricating bearings surface solution greatly improves the corrosion resistance of the turbine for smooth operation in inclement weather conditions and corrosive offshore environments. Working with our experienced application engineers early in the design process maximizes the energy output of the wind turbine and improves system performance.
For more information, to order or speak to a member of our product team.
Viiplus high-performance plain bearings tribology solution can work under little or no additional lubrication conditions, at the same time, these solutions are designed to meet the changing government regulations: our many RoHS standard bearings and polymer coating solutions, friction, corrosion resistance and no maintenance, less can significantly reduce system wear and extend the service life of parts.
The Viiplus self-lubricating surface solution provides low noise, non-creaking operation for yaw brakes with less friction and better compression resistance for rotor locking and variable paddle control applications.
Viiplus' environmentally friendly fiber-reinforced composite busings and advanced metal-polymer materials provide low friction, maintenance-free operation, and significantly reduce system wear and increase the service life of components.
Renewable Energy & Power Generation
Self-lubricating Bearings High Performance – Meeting Future Demands For Wind Turbines
Selecting the right blend of renewable energy self-lubricating bearings technologies to invest in is key to achieving true sustainability. Viiplus Plain Bearings Solutions enable efficiency of energy generation.
Viiplus is designed to provide innovative sliding bearing solutions for the renewable energy industry, in addition to applications in the wind energy sector, for a variety of hydroelectric, solar applications, and to provide customized tribology solutions that allow mechanical energy to run more accurately and smoothly.Viiplus provides a variety of self-lubricating or water-lubricating materials to prevent costly downtime and equipment failures in hydro, solar and wind power applications, and to facilitate the development of new energy sectors.
Applications
Onshore wind energy operations
Offshore wind farms